Snapchat Approved A Donald Trump Debate Filter And The Internet Is FURIOUS
27 September 2016, 11:24 | Updated: 8 May 2017, 17:09
Trump used the first debate as an opportunity to appeal to millennials. How'd that one work out Donald?
Last night (September 27th) saw the first US Presidential Election debate between Democratic nominee Hilary Clinton and the human equivalent of a trash can outside a Subway restaurant that answers to the name Donald Trump.
If you missed it, every question basically looked like this: NBC
So there ya go.
But, even before the debate, the former host of The Apprentice managed to cause controversy by setting up his own hate-filled Snapchat filter, making use of his favourite schoolyard nickname "crooked Hillary".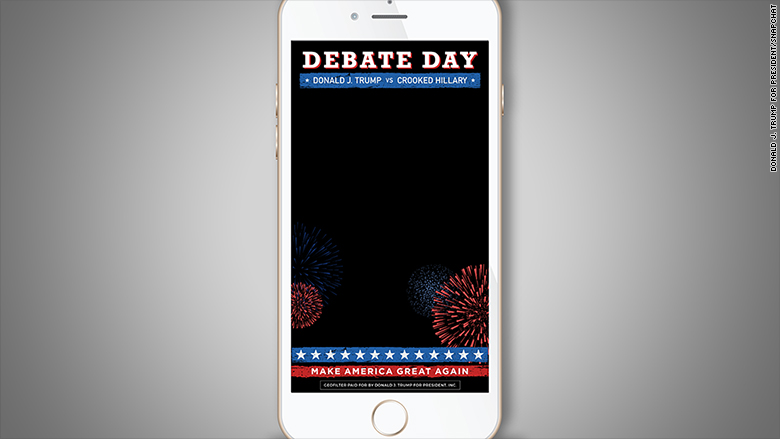 Snapchat
Of course, the real reason that former steak salesman Trump is on Snapchat is to appeal to millennials who have thus far been turned off by him.
But now, he's out to grab that youth vote!
Imgur
Unfortunately, the kids don't seem to be going for him.
Here are just a handful of the reactions on Twitter.
snapchat ugly for this trump filter , sponsoring propaganda I can't bux wit it

— Kehlani (@Kehlani) 27 September 2016
I'm boycotting snap chat until they get rid of that dumb Donald Trump filter tbh

— clauddog (@ClaudiaDespres) 26 September 2016
SERIOUSLY SNAPCHAT??? How would you allow Donald Trump to make this a filter. NO. https://t.co/cnxPztXWFB

— Ryan Charchian (@ryancharch) September 26, 2016
Trump has a geotag on Snapchat.

Internet, make him regret it.

— Bex Taylor-Klaus (@IBexWeBex) September 26, 2016
Wonder how much Trump spent on this Snapchat filter today It's impressive that he's managed to turn this entire election into a joke pic.twitter.com/1hCpgaccZ9

— Justine Ezarik (@ijustine) September 26, 2016
Well said Justine.
Plus, many are equally as disgusted by Snapchat itself for allowing the filter.
Nev of MTV's Catfish fame posted this pic that kinda sums up the whole situation.
This only begins to express how disgusted I am with Trump and how disappointed I am with @Snapchat #debates pic.twitter.com/HRzYcUBeCh

— Nev Schulman (@NevSchulman) 26 September 2016
Pretty much Nev. Pretty much.
What do you guys think of Trump's Snapchat filter? Let us know below.