Twitter Is Changing Its Newsfeed: Here's What You Need To Know
10 February 2016, 16:51 | Updated: 8 May 2017, 17:09
We got ya covered, dw.
Just when you get used to one social media change, another comes along and slaps you around the face (well, not literally, but you know what we mean).
Facebook might be introducing alternatives to the like button and Instagram FINALLY lets you quickly switch between accounts, but it's Twitter that's announced a big ol' overhaul.
On Wednesday (10 February) the micro-blogging site announced that it was going to introduce a new feature that utilises an algorithm to push you the "most important tweets" you might have missed from the people you follow.
According to this blog post, the tweets that Twitter's algorithm thinks you'll most care about will appear at the top of your feed, much like another social media site.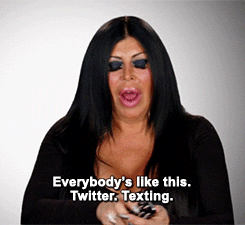 RealityTvGifs
Twitter claim that this function improves retweets and encourages people to tweet more. So, if you feel that joke you tweeted an hour ago sunk quicker than an Oreo in a glass of milk, it might still have some legs in it yet.
However, don't panic yet! You'll be able to toggle the feature on and off in settings (THANK GOODNES) if you want to keep Twitter separate from Facebook.
The feature launches today (10 February). Let us know how y'all get on with it on, well, Twitter @PopBuzz.