This Instagram account is exposing the pay gap between Black and white influencers
10 June 2020, 13:01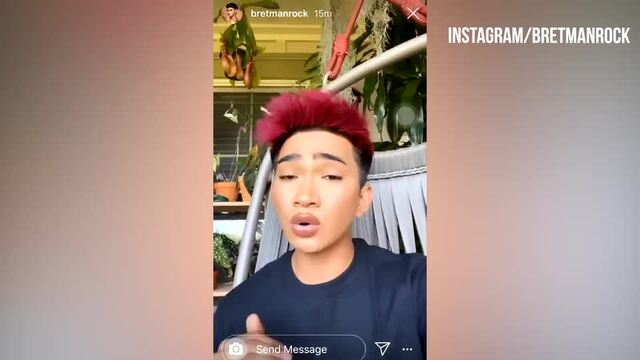 Bretman Rock calls on influencers to speak up about Black Lives Matter
Influencer Pay Gap found that Black influencers get paid less than white influencers.
A new Instagram account is exposing the inconsistencies in how much influencers are paid to post on social media.
The Instagram account – @influencerpaygap – was set up on June 8 with the aim to be transparent and expose "the disparities in opportunities, pay and visibility between Black and non-Black influencers". The account hopes to make it easier for Black influencers to hold brands accountable for the pay disparities.
READ MORE: Influencer Kris Schatzel called out for staging Black Lives Matter photos and her response is even worse
It's no secret that across a lot of industries Black people are paid less than their white counterparts. Riverdale star Vanessa Morgan recently called out the show for receiving a lower salary than her white co-stars. Sadly, the same can be said for the influencing industry, which has no clear guidelines on how much an Instagram post should be worth.
The account encourages influencers to anonymously DM them with information on their race, number of followers, engagement, what brand they worked with, the industry they influence and, importantly, the fee they're paid. Despite being active for just a few days, the account has shared more than 100 submissions and has over 10,000 followers.
Unfortunately, it's clear there are discrepancies in the amount influencers of different races are paid. A Black influencer might have a higher engagement rate than a white influencer with more followers, however, they will be overlooked. In turn, that means they are paid less. One mixed-race influencer with 11,000 followers and a 10% engagement rate was paid just £50 for two Instagram posts.
The account hasn't just exposed the racial pay problems either. A LGBTQ+ influencer was paid £12,000 less than other influencers for their posts, while a disabled influencer was required to make content and no fee was given.
The account has received praise for its transparency and for exposing the vast payment differences within the industry.
The influencerpaygap that spun ne was the girl who made 15k. I'm going to be sick.

— LUDO QUEEN (@Oloni) June 8, 2020
My eyes have been twitching all day since I read this. OMGGGGGGG. Na black people need more transparency with regards to this influencer stuff because we can't be getting bumped.

Cc: @influencerpaygap on IG pic.twitter.com/3necdZ7lDH

— 96 Hov (@staybalanced_) June 8, 2020
Seeing a range of black influencers, micro and huge ones, comment under the influencerpaygap posts all in amazement and shock. You know when you see you've been getting exploited past and present. It must be tough man

— dollabilz⚡️ (@bilzyb) June 8, 2020
The influencerpaygap page on Instagram is so insightful. I've been paid more as a creative for a simple IG post.

— MABINTOU (@MABIN2_) June 8, 2020
Jokes aside black content creators and influencers are amazing and a lot of them do amazing work. They deserve to be compensated properly & fairly for their contributions. Big up @influencerpaygap for this intiative. More transparency.

— 96 Hov (@staybalanced_) June 8, 2020
Some of the submissions to the Influencer Pay Gap page. Wow. The page was definitely needed because the figures I'm seeing. 🥴

— RISA 💍 (@vintagedollrisa) June 9, 2020
But, what can anyone do about it? Well, it's important that brands pay a fair wage to their content creators across the board. Failing that, white influencers can help by demanding that their Black counterparts are paid fairly and being transparent about their pay in an industry that is notoriously secretive about payment rates.
What do you think? Tweet us @popbuzz and let us know!