Instagram Is Changing And Here's Everything You Need To Know
16 March 2016, 15:07 | Updated: 8 May 2017, 17:09
Get ready for a brave new world.
If you're reading this then I'm going to go ahead and assume that you're a daily Instagram user. It probably features heavily in your rotation of apps that you can't live without and you were probably looking at it less than 10 minutes ago. If that's the case, we've got potentially life changing news for you. Instagram is about to reorganize the way you view your feed and it will definitely affect how you use the app.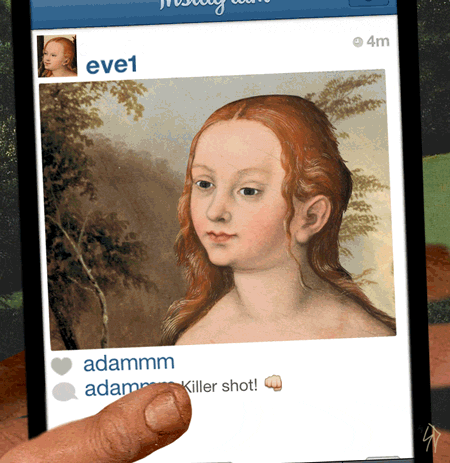 Currently, when you open up your Instagram app, everything you see is in chronological order. You're viewing things as they happen which is a fairly common way that social apps display content. Lately, though, you may have noticed that some apps are moving away from chronological timelines and feeds and more toward behavior based algorithms.
Facebook pioneered this with its closely monitored "Facebook Algorithm", Twitter has been testing its own algorithm for some mobile users, and Instagram (owned by Facebook) is now the latest to join the algorithm revolution.
In a blog post entitled See The Moments You Care About First, Instagram details the how and why of your brand new Instafeed.
First thing is first:
The order of photos and videos in your feed will be based on the likelihood you'll be interested in the content, your relationship with the person posting and the timeliness of the post.

Instagram
So, the order that photos will appear in your feed is entirely dependent on you. Do you have a habit of liking your ex's photos on Instagram? Get ready to see their pictures front and center as Instagram prepares to prioritize the things you seemingly care about most.
Instagram's main focus right now?

Getting the order right.
We're going to take time to get this right and listen to your feedback along the way.

Instagram
This is a very careful way of saying that Instagram's algorithm won't be perfect at first. Any situation where an AI is trying to learn a user's behaviour can never be an exact science for a lot of reasons. And, as Instagram notes, they're going to need your help. So don't be stingy with your feedback. Let Instagram know when they're not getting it right.
And when can you expect to see new algorithm based feeds?
You'll see this new experience in the coming months.

Instagram
You'll see the changes happen slowly and then all at once, (basically) to borrow a platitude from John Green. Do people like the idea of it? Well, they don't love it.
Damn, Instagram going algorithm too! Need an algorithm for all the algorithms.

— Joanna Stern (@JoannaStern) March 15, 2016
. @instagram any chance of having the option to turn the algorithm on/off? One of my favorite things about IG was seeing everything.

— Benj Haisch (@benjhaisch) March 15, 2016
Ugh, Instagram algorithm, can we not? pic.twitter.com/f8hoiFdJs1

— Heather (@sugarpea_) March 16, 2016