The Internet Is Thirsting Over John Krasinski's Beard And They're Not Wrong
11 April 2018, 14:31 | Updated: 12 April 2018, 08:30
"Can't stop thinking about John Krasinski with that beard."
Most of you will know John Krasinski from his 9 season run on NBC's The Office. Fans fell in love with him as the charismatic Jim Halpert but something about John has changed and it's sending the internet into a bit of a thirst spiral.
via NBC/The Office
John and his incredibly talented wife, Emily Blunt, just made a film called A Quiet Place. So far, the reviews have been glowing and it's even inspired comparisons to an iconic scene from The Office.
A Quiet Place (2018) pic.twitter.com/PFzI5zcXPW

— James Stinson (@jamestweets222) April 6, 2018
It's not just John and Emily's incredible performances that people are taking notice of. Some folks have realised that John's movie beard is actually a gift to all mankind.
via Paramount Pictures

People can't stop thinking about that beard.
john krasinski's beard is the reason i wake up in the morning

— bella (@beIIaramirez) April 9, 2018
cant stop thinking about john krasinski and his beard pic.twitter.com/0b3CQFTl5Y

— ㅤ (@tomholIand) April 6, 2018
john krasinski with a beard. rt if u agree pic.twitter.com/7aupunxn4W

— dalia (@daliaelak) March 28, 2018

Not even THE Emily Blunt is immune
find someone who looks at you the way emily blunt looks at john krasinski's beard pic.twitter.com/7ONHiGJog4

— keely flaherty (@keelyflaherty) April 3, 2018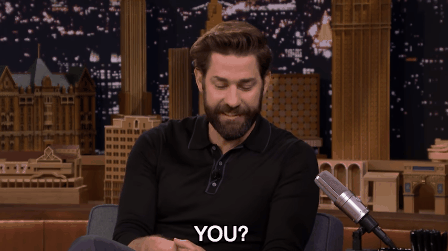 via NBC/The Tonight Show

John's beard was a scene stealer.
JOHN KRASINSKI HAD NO BUISNESS LOOKING AS FINE AS HE DID WITH HIS BEARD AND RUGGED BEAUTY IN A QUIET PLACE pic.twitter.com/SB8JdmcJqz

— nyks (@nikkipedia__) April 8, 2018
just when I thought Jim Halpert, aka @johnkrasinski , couldn't get any hotter... he goes and grows a beard and makes a masterpiece of a movie

— Catie Garzarek (@catiegarzarek) April 9, 2018

And we're 100% sure John knew what he was doing when he cultivated that facial hair.
john krasinski when he decided to grow a beard pic.twitter.com/Jd06zPhSdD

— lil freckled gem (@miboatbabe) April 10, 2018

;___;
can't stop thinking about john krasinski with that beard pic.twitter.com/B4WVaESzhF

— jerry (@stylestruIy) April 7, 2018

A good trade-off.
If living in a soundless dystopia meant John Krasinski would have a beard all the time, sign me up.

— Erin Vail (@vailerin32) April 11, 2018

In conclusion, John Krasinski's beard 2020.

via NBC/The Office