What is the most liked video on TikTok? Here are the Top 10
21 April 2023, 18:36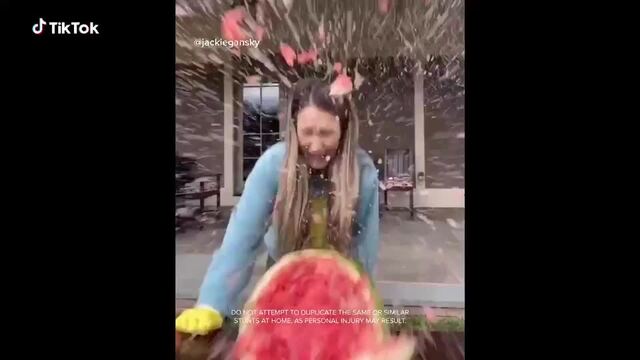 TikTok encourages people to download the app before it's banned
Here is your comprehensive guide to the most liked TikTok videos EVER.
TikTok is becoming more and more saturated with creators and now it's not always enough to have just one viral video, you need THEE viral video. Whether it's starting a new dance challenge, pulling a hilarious prank, or making some sort of wild announcement, everyone wants to make it onto the TikTok's top 10 list.
Now we know the likes of Charli D'Amelio, Addison Rae and Bella Poarch have the power to rack up millions of TikTok likes in seconds, but who actually holds the coveted title of having the most-liked video of all time? Here's the current top 10.
READ MORE: What is the most viewed video on TikTok? Here are the Top 10
1) Bella Poarch 'M to the B' – 61.3 million likes
Bella Poarch has officially earned the most likes on a TikTok video with a whopping 61.3 million likes for simply bopping her head to Millie B's 'M to the B'. The video, which was posted in August 2020, made the 2016 track reach a global audience and sparked a host of copycat videos. It's also the fifth most viewed TikTok of all time with over 750 million views.
2) Jamie32bish's dancing to Nelly Furtado's 'Say It Right' - 51.8 million likes
As well as being one of the most viewed TikToks of all time, Jamie32bish's viral Nelly Furtado clip is also one of the most liked. It's been replicated by huge TikTok stars and celebrities all over the world.
3) Franek Bielak's drawing – 51.3 million likes
Franek might have only been 15 years old at the time, but the artist has earned himself a spot on the most-liked TikTok list for his impressive artwork. This particular piece took a whopping 23 hours to complete.
4) Nick Luciano's parody video – 49.8 million likes
Nick Luciano made a copy of @kaylavoid's hilarious video and it quickly went viral. The video currently has almost 50 million likes and counting!
5) Totouchanemu's dancing to The Kid Laroi and Justin Bieber's 'STAY' - 45 million likes
6) Billie Eilish's first TikTok video – 40.6 million likes
Billie Eilish had only just joined TikTok at the time but, unsurprisingly, she immediately made it onto the most-liked list. Billie's first video ever, where she tries out the Time Warp Scan filter, has over 40 million likes and ranks among the most viewed TikToks of all time. Her power.
7) Khaby Lame's 'How to peel a banana' video – 37.9 million likes
8) British Promise Cats – 37.4 million
What's cuter than a cat, you ask? A cat putting its teeny paw and head through a tube. British Promise Cats' video has been liked over 37 million times and honestly it's too adorable.
9) Khaby Lame's 'How to open a car door' video - 36.3 million likes
Khaby Lame's second video on the most liked TikTok list is his hilarious response to a 'mirror hack' that helps people in the back seat see if there's a car driving past before they open the door. The solution? Just look out the window, babes.
10) ChipmunksOfTikTok's video of Squishy the chipmunk filling its cheeks - 36 million likes
Read more TikTok news here:
FLO Spill Their Secrets In 'The Tower Of Truth' | PopBuzz Meets