The Most Popular Tweet Of 2016 Has Been Revealed And It's... Literally One Word
7 December 2016, 11:56 | Updated: 8 May 2017, 17:09
Bet you can't guess which word it was...
Even though it seems like Trump took up 87% of Twitter's oxygen supply this year, other things actually happened on the platform. Hard to believe, right?
Twitter has just released its most popular trending topics of the year and it's truly wild. It seems only apt that Game Of Thrones rounded out a top 10 of trending topics that included PokemonGo, Brexit, Trump and 'RIP'. Despite being a flop, Suicide Squad was amongst the most talked about movies and of course, #Oscars topped the most talked about televised award shows thanks to the worldwide Leo BaeCaprio live tweet.
via giphy.com
The platform also revealed the most popular tweets of the year. We've seen some absolutely incredible personal stories, moving tributes and hilarious one liners this year but the most popular tweet of 2016 was literally one word. Can you guess what it was? (And no, it wasn't Hillary Clinton just tweeting the word "F*CK" on November 9th but by god, that would have been great.)

Amongst the most popular tweets of the year is a very special one from the great snake-slayer herself. Kim's National Snake Day tweet in regards to Taylor Swift's tragic demise at the hands of the KKW snapchat got well over 200k retweets.
Wait it's legit National Snake Day?!?!?They have holidays for everybody, I mean everything these days!

— Kim Kardashian West (@KimKardashian) July 17, 2016
Leo DiCaprio's long-awaited Oscar acceptance tweet set a record for the most retweets per minute. To be fair, the majority of Twitter had been waiting for this very moment from birth.
Thank you to the Academy and the incredible cast & crew of #TheRevenant. #Oscars

— Leonardo DiCaprio (@LeoDiCaprio) February 29, 2016
JK Rowling's simple yet touching tribute to Alan Rickman, who sadly passed away in January, was also amongst the most popular tweets in entertainment.
There are no words to express how shocked and devastated I am to hear of Alan Rickman's death. He was a magnificent actor & a wonderful man.

— J.K. Rowling (@jk_rowling) January 14, 2016
On the political side of things, Joe Biden managed to snatch one of most popular tweets with his birthday tweet to his homeboy Barack.
Happy 55th, Barack! A brother to me, a best friend forever. pic.twitter.com/uNsxouTKOO

— Vice President Biden (@VP) August 4, 2016
But that was ruined when this happened. *sigh*
TODAY WE MAKE AMERICA GREAT AGAIN!

— Donald J. Trump (@realDonaldTrump) November 8, 2016
Anyway, back to entertainment... It was only right that Freddie Tomlinson's first social media appearance landed him amongst the most popular tweets like his father before him.
Meet my little lad, Freddie pic.twitter.com/nec7OqwuQR

— Louis Tomlinson (@Louis_Tomlinson) January 28, 2016
Now for the top three: Hillary Clinton's quote from her inspirational concession speech amassed over 1m likes and over 630k retweets, finishing in third.
"To all the little girls watching...never doubt that you are valuable and powerful & deserving of every chance & opportunity in the world."

— Hillary Clinton (@HillaryClinton) November 9, 2016
Harry Styles finished in second with what HAS to be the most inspired tweet of the year... some god damn Taylor Swift lyrics. (Also, how is Harry only 22?)
I don't know about you, but I'm feeling 22.

— Harry Styles. (@Harry_Styles) February 1, 2016
And the most retweeted tweet of 2016? It came from a Spanish gaming Youtuber called Elrubius who literally tweeted one word.
LIMONADA

— elrubius (@Rubiu5) August 20, 2016
Sadly, Elrubius wasn't promoting Beyonce's magnum opus, Lemonade. He simply picked a word and an emoji and told his fans to retweet it for the chance to win some giveaway prizes.
Damn. What a year.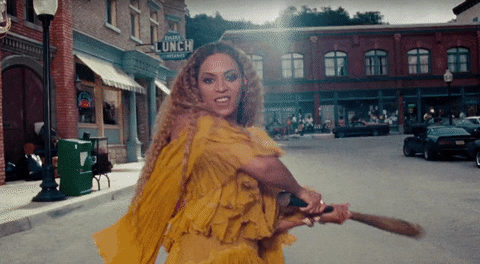 via giphy.com