OMG, Apple Just Changed All Their Emojis And Everyone Hates Them
14 September 2016, 11:33 | Updated: 8 May 2017, 17:09
DELETE YOUR ACCOUNT, APPLE.
Apple are really on roll at upsetting everyone on Twitter at the moment with their new products, aren't they?! We've been in mourning ever since they announced that the iPhone 7 was losing the precious headphone jack but now we've got even more reason to cry ourselves to sleep thanks to the iOS10 update.
A few months ago, we dropped the bombshell that 72 new emojis were on the way, along with gender equal emojis and the removal of the gun emoji. But something happened in the update that we weren't expecting and it is quite frankly, something that we didn't want at all... they've gone and changed ALL the emojis.
Unicode and Apple thought they'd give their iconic emojis a little facelift but it's backfired and everyone hates it.
Everyone that has downloaded #iOS10 pic.twitter.com/YaaY87BuJe

— b.b (@Benoo_Brown) September 13, 2016
Everyone thinks the emojis have been "downgraded" to Android level.
the emojis have downgraded to an android level I'm disgusted #IOS10 pic.twitter.com/SY20NvbqpJ

— hanna (@companysariana) September 13, 2016
But still... it could be worse. You could *actually* have the Android emojis. (No offence to Android users *shady emoji*)
It could be worse... #iOS10 pic.twitter.com/KhPyajqceW

— Brandon (@Holtfrerich) September 13, 2016
People aren't adjusting to the Water Gun emoji as well as we had all anticipated.
how am I suppose to use this emoji to show how stressed I am???? no one is going to take me seriously??? #iOS10 pic.twitter.com/nBIWiEtVtG

— chard (@luxuriouszoella) September 13, 2016
THEY'VE CHANGED THE GOD DAMN INFORMATION DESK PERSON.
before vs after contour #iOS10 pic.twitter.com/L2kEWGJZdb

— kt (@ktitten) September 13, 2016
Rest in peace, original running man.
you vs. the guy she told you not to worry about #iOS10 pic.twitter.com/JQEFv9HuoS

— Zahrة (@zahrasjaber) September 14, 2016
But hey, at least the boys get a chance to be sassy AF now!
Boys can be sassy too. #iOS10 pic.twitter.com/8WbWMGfwpK

— D E E (@blobydee) September 14, 2016
It's not just the emojis everyone is kicking off about either. Apple have got rid of the 'Slide To Unlock' function.
only 90s kids will remember #iOS10 pic.twitter.com/j4e60E7QaC

— jon (@MrJTown) September 13, 2016
And they've changed the interface of the Music app just when we'd finally got used to it.
Chanel Vs. Walmart #iOS10 pic.twitter.com/jsbzPSMxQK

— Lady Gaga (@HausOfFIRAT) September 13, 2016
How can you do this to us, Apple? How?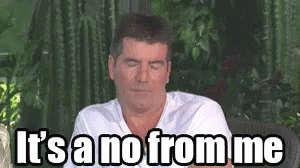 via giphy.com