A Goat Dressed As A Hot Dog Because Nothing Is Sacred During Halloween
21 October 2015, 17:45 | Updated: 8 May 2017, 17:09
Yikes!
Whoever said animals don't like dressing up was...probably right. Have you ever put a jumper on a dog? While you're there happily taking pictures, the dog is usually throwing you a sorrowful look like you've just told it that it's about to be put down.
So long as they aren't harmed, we don't see the problem. We especially love the halloween costumes their nutty owners come up with. The creativity is truly remarkable.
We've put together a list of the best halloween costumes to provide you with inspiration for your own pets and, of course, to give you a fright. It's pretty scary stuff ya'll.
1) Teenage mutant ghostly turtles.

2) In the unlikely scenario that you own a goat, just recreate the picture below.

3) Oh look, a sheet.

4) Scawy cat.

5) Power couple.

6) Cod dog.

7) We're not sure if hairless cats need a costume to look scary.

8) 10/10

9) This is legit f*cked up.

10) Imagine walking into the stables at night and seeing this.

11) Spooky fruit.

12) Not sure what this has to do with halloween but we're down with it.

13) Snakes like to dress up too.

14) Stop it.


15) Dead.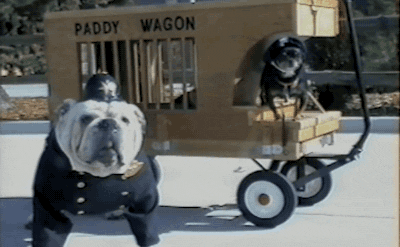 16) Ok, we've found our winner: