17 Valuable Lessons I Learned Playing "Pokémon Go" At Disneyworld
20 July 2016, 16:27 | Updated: 8 May 2017, 17:09
Mickey just got a few new friends ready to join the Magic Kingdom.
How do you make the happiest place on earth even happier? Add Pokémon. Obviously.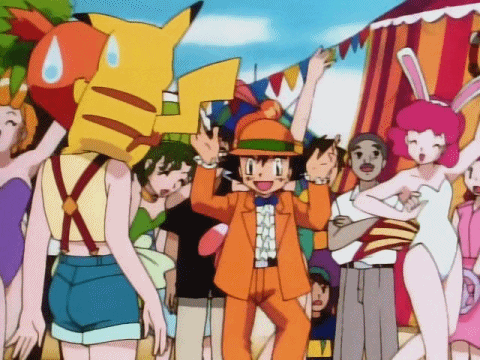 REWATCHINGPOKEMON.TUMBLR.COM
I don't need to explain what Pokémon Go is to you guys - I'm sure you are ALL over it. But the craze really took off while I was on summer vacation with the fam in sunny, stormy, scarily crowded Orlando, riding coasters, lounging by the pool and tweeting out pics of my other half posing with Dug from Up.
But then once I finally hit download on the app store (after some hacking - these were the dark pre-UK release days people) everything changed and my holiday now became a mission. A mission to catch 'em all!
There were certainly enough people with the same idea - every three steps you'd see another group of kids with their heads buried in their phones, looking up for only a few seconds if they spotted a passing Elsa or smelt a ridiculously oversized Turkey leg roasting on the wind, before returning to the safety and comfort of the virtual world.
But would it be possible for a rookie trainer to make it in the House of Mouse? Here's how it went down.
1. First problem - I'm data roaming. This park wifi better be up to scratch!
2. Wow, first spot right on Main Street!
Will probably get trampled by families with pushchairs in the very near future.
3. Ooh and this little dude is hanging around Pirates Of The Caribbean.
It is a fun ride to be fair. Better than the movies really. Especially the second one - what a load of dogsh*t that was. No matter what happens with his current legal troubles, Depp should have been jailed years ago for that crime against cinema surely?
4. So it's become immediately apparent that this wifi is gonna be a struggle. It is the biggest tourist destination in the world after all.
5. Stop loading so slowly dammit! I get it, pay attention to what's around me!
6. Ooh look at that...
Just jamming in New Fantasyland next to the carousel.
7. The castle is a gym! We repeat - Cinderella's castle in the Magic Kingdom is an actual gym. We are through the looking glass here people (I know that's Alice but you get the metaphor).
8. Wifi is DONE. This is fun but I ain't spending £6 a minute for the privilege of 4G.
9. Regained signal on Tommorowland train as a Spearow lands on my little brother's knee.
He doesn't appear particularly concerned.
10. Signal gone again. In the words of Matty Healy, UGH!!!!!!!!
11. Return to the comfort of the hotel and free wifi to grab a Pikachu and Psyduck in quick succession. When it rains it pours. And in Florida in July it rains a LOT.
12. OK, let's look in another park shall we? How about Animal Kingdom, that seems appropriate.
13. Next to the Lion King show seems like a decent enough spot.
That's the "tree of life" in the background by the way. Much like these creatures, it is also fake but looks and feels so real.
14. Annoyingly there don't seem to be any located on actual rides. Was really hoping to catch something in the Kilimanjaro safari or at the top of Space Mountain. No such luck. Or signal.
15. How's EPCOT looking?
Tracked down in the fake Mexico bit. In fact all the pretend countries seem to be riddled with monsters.
16. This dude was in the fake Japan area.
Well, they did invent it.
17. Ironically though, this area was completely bare.
Unless they are buried at the bottom of the pile or something. You never know...
Anyway after that everyone I was with got annoyed at my constant staring at my phone screen and I was promptly banned from the game on the threat of death (or at least no Mickey ice cream bars which is basically the same thing).
So, in summary, if you are gonna play Pokémon Go in Disney World, make sure you have a decent data roaming rate, have a park map on hand to help guide you around and, most importantly, make sure you stop off at the single greatest Poké-stop in the world. Or at least that's what the guy who runs the place said it was.
Quite arrogant actually.