15 Struggles Only People Who Haven't Played Pokémon GO Yet Will Understand
12 July 2016, 12:32 | Updated: 8 May 2017, 17:09
I thought all the Pokémon died out with the dinosaurs?
For the past week, fully grown humans have been chasing fictional creatures in pursuit of I Don't Know What on a game called Pokémon GO. Quite frankly, it's madness.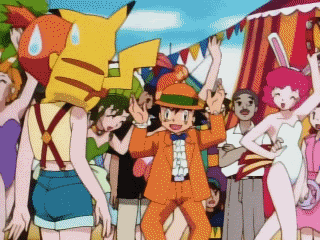 giphy
Though millions are playing the game, there is a large, but silent, majority that have not. In that group, profound questions are being asked: have people gone mad? Is this the end of the world as we know it? What the f*ck is a Pokémon gym?
So we are less alone, this post is in honour of all those that don't have a clue what's going on. Stay strong, comrades, it will all be over soon.
1. Literally, what the eff is happening?
2. You see this and think someone must be having a bad trip.
3. The rise in Pokémon poetry is making your eyes bleed.
4. How!? Did Pikachu do the dumbbells for you?
honestly i'm more exhausted from #PokemonGo than i am from the gym.

— Will Shepherd (@shep689) July 12, 2016
5. Don't worry Kami, you are not alone.
I've come to the conclusion that I'm the only person who doesn't understand Pokemon go

— kami gibson (@kamgibbss) July 12, 2016
6. Nope. Nothing. No idea.
"I am the very best...of commons." #PokemonGo pic.twitter.com/7PqqnriQDn

— Pokémon Go News (@GoPokemonNews) July 12, 2016
7. Is a rare Pokémon the same as a rare pepe?
I hope there's some really rare Pokemon at the show tonight 4 y'all.

— h (@halsey) July 9, 2016
8. WHAT THE HELL HAVE THEY DONE TO MY PRECIOUS PEPE? THERE WILL BE BLOOD FOR THIS.
When your phone vibrates but it's just a text #PokemonGo pic.twitter.com/dJNh0oPb6N

— PokemonGo™ (@CatchEmAlI) July 10, 2016
9. That time everyone else downloaded Pokémon GO and killed your social life for good.
simpsons.tumblr

10. The more Pokémon-related things you see, the deeper your resentment grows.
i have no idea what this pokemon thing is & i am deeply committed to it remaining that way

— Lou (@MsLou27) July 11, 2016
11. Two weeks ago I would have assumed this tweet was about Grindr.
There's a freaking jigglypuff nearby but I'm in my pjs and CBF going go find it #PokemonGO

— Blossom (@Sparkie_Gal) July 12, 2016
12. Leave the real animals out of this war of attrition ffs.
Egg hatching machine #PokemonGO pic.twitter.com/o0ke8KlGiU

— PokemonGo™ (@CatchEmAlI) July 12, 2016
13. Why are people ridiculing their children like this?
"Are you trying to take a picture"
"No, I'm playing Pokemon go" pic.twitter.com/R6e9QKzmvv

— Gavin Meme (@GavMemes) July 11, 2016
14. You're not even on the game but you feel like you are.
giphy
15. Delete yourself.
'Cause you know i'd walk 1000 miles if i could just see Mew tonight #PokemonGO

— Laura (@Br0kennSmile) July 12, 2016