These Popstar Apps Really Need To Try Harder
16 December 2015, 12:22 | Updated: 8 May 2017, 17:09
Featuring the new "Katy Perry Pop" game!
Before we kick off this whole shebang, we have a confession… we still play "Kim Kardashian Hollywood" and we're not ashamed to admit it. Don't @ us. Seriously.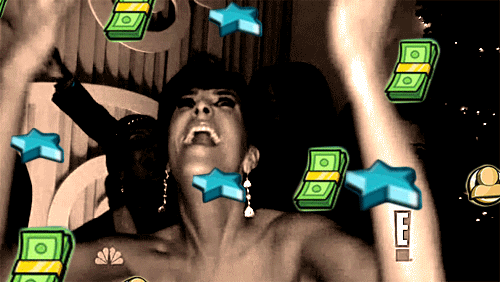 Thanks to the incredible success of Kim's game, ALL OF THE POP STARS are now cashing in on the trend. With the recent release of "Katy Perry's Pop", we at PopBuzz HQ have been wondering if the 'Choose Your Own Adventure' template getting tedious or if it's just a really really really great idea to cash in on what's good? Let's explore shall we?
Demi Lovato: Path To Fame
Demi's app literally consists of you choosing an option from a multiple choice selection and watching a short scene unfold before your eyes. That's literally it. Eventually, your absentminded choices will either see you break up with your irrelevant boyfriend, or manage to get a selfie on stage with Demi. If we're using the success of "KKH" as a template, "Path To Fame" is pretty passive. #AtLeastYouTried
Kingin With Tyga
To be fair, Tyga's app is kinda fun! No one has to wait for energy refills and there's no temptation of having to buy in-app purchases so you can finish a photoshoot. But it's not hard to see that it's a pretty obvious rip-off of the iconic Temple Run game where instead of outrunning the monster, you literally just run away from Paparazzi. But hey, it's a format that works and we've been sat here playing it for 25 minutes!
Katy Perry's Pop


After all the anticipation and excitement surrounding the Katy Perry app, we've just discovered that it's a little bit rubbish. First of all, it's LITERALLY the same as Kim K Hollywood. An struggling artist looking for a gig who magically bumps into a Hollywood superstar and WOOP, you're hobnobbing with the best of them within 15 minutes. It won't break records like Kim's because, so far, it doesn't seem to have that tongue in cheek vibe that makes KKH so good. If EVERYONE in the world is still playing Kim's app, then we do we need another one with a different face on it? 2016 will see Glu Mobile Inc. (the company behind Kim & Katy's games) launch apps from Nicki Minaj, Britney Spears, Kendall and Kylie and - WTF - Jason Statham. And if we're being honest, we're going to need something that has a little more originality to it, plz!
For any app developers out there, we'd like to suggest a game where Brendon Urie scours the globe for his lost shirt called, "Panic! I've Lost My Shirt". We'd pay big bucks for that.