Here's How Snapchat Is Helping End Abusive Relationships
22 March 2016, 17:04 | Updated: 8 May 2017, 17:09
Omg, claps for this amazing idea
We'll concede that Snapchat probably isn't the first place you think of when you're in a tough situation.
Snapchat is more for stalking your celebrity crushes or keeping tabs on your friends than it is for tackling serious IRL issues. However, one Snapchat account is committed to helping teenagers get out of abusive relationships by allowing teens to seek help through the app.
image via buzzfeed
The Snapchat counsellors work just like any other account. Users can report any abuse they may be going through to lovedoctordotin who can advise and direct them. The account was created by Rajshekar Patil, Avani Parekh, and Nida Sheriff who say they want teenagers to know that "guides like this exist".
Lovedoctordotin shares real stories of domestic abuse, ways to tell if you're in an abusive relationship, and other material that teens in a bad situation may find useful.
The trio have created a downloadable guide for people who suspect they may be in an abusive relationship of any kind.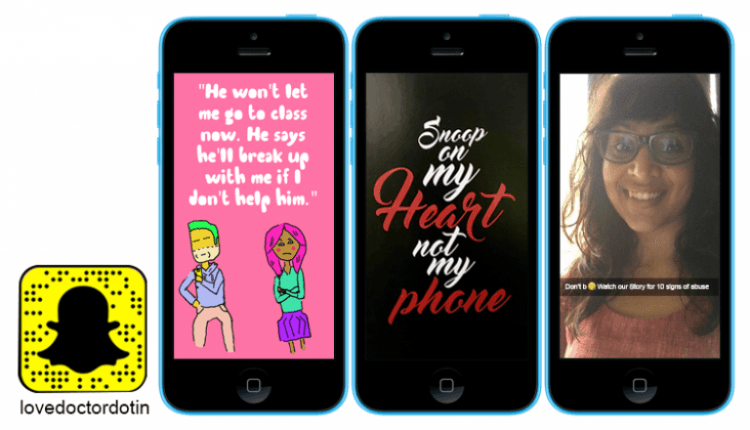 image via techinasia.com
So, why does this matter?
We know that Snapchat is fun. We know that can keep us entertained for hours. But this is totally new territory. The app is famous for its here-one-minute-gone-the-next built in privacy mechanism. Privacy is key, especially when it comes to matters of abuse or reporting misconduct.
It's completely opening up a world of virtual and online counselling via apps that are already popular among teens. Though the three creators are based in India, they're still doling out super useful advice that can be applied to anyone living anywhere.
1.5 million teenagers in the US say they have experienced abusive behaviour in a relationship which is obviously not ideal.
The Snap counsellors have made a PSA about relationship abuse which you can watch below and follow them on Snapchat!