Snapchat Just Stole A Feature From Instagram And It's Gonna Change Your Life
10 November 2016, 12:46 | Updated: 8 May 2017, 17:09
Also: GOODBYE SCREENSHOT NOTIFICATIONS!
Remember when Instagram stole Snapchat's ENTIRE aesthetic and introduced a 'Stories' feature to their already perfectly fine app? That was a day to remember. Well, now the tables have turned because Snapchat has just swiped (literally) a feature from Instagram Stories and it's just made our lived ten times easier.
Coming soon to an update near you, Snapchat will be introducing a 'rewind' function to allows users to go back in the middle of story to re-watch a snap they may have missed instead of re-watching the ENTIRE story.
HUGE Snapchat Update:

You can now rewind Snap Stories! pic.twitter.com/pBQAB0hzRp

— BuyCustomGeofilters (@buycustomgeofil) November 8, 2016
You can now also send other people's stories to your friends in a private message. Regardless of whether or not they follow them, meaning you can sleuth on your ex's updates without them even knowing!
(It doesn't work if their account is private though, so make sure you lay the groundwork before you start the sleuth!)
There's also ANOTHER new feature - in the form of 'World Filters' - which effectively let you add a filter onto ANYTHING and not just selfies!
Bro this snapchat update is lowkey lit pic.twitter.com/QxLUPjlYp8

— (@AR_Different) November 8, 2016
YAAAS! COME THRU SNAPCHAT!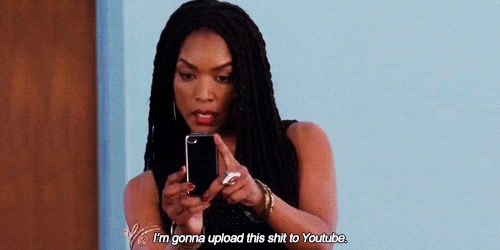 via giphy.com
___ ___ ___ ___ ___
Subscribe to the #PopBuzzPodcast for free on iTunes to get new episodes sent straight to your phone every Wednesday.