Did Snapchat Steal This Artist's Music? Listen To Both And Judge For Yourself
Bad news for Snapchat...
Snapchat has been accused by British artist Kate Nash of using a clip of her music without permission after she went to use a filter and discovered it used music that sounded similar to one of her own songs.
The filter in question was introduced last week and it has many similarities to Kate's song 'Foundations'. According to NME, Kate shared a video on her Twitter addressing the potentially stolen music.
In the video she says, "Hey Snapchat, it's Kate Nash. I can barely hear you over the sound of my own song, but where's my pay check?"
Hi @Snapchat Do you pay ppl for the use of their work? Been off a record label now for 5 years. Is this legal? I should be paid PLS RETWEET pic.twitter.com/9qq9iKltFG

— Kate Nash (@katenash) February 17, 2017
Listen to the 'Foundations' here to compare the songs.
Kate didn't stop there. She then went to Instagram with a longer message for Snapchat. She wrote:
"HI SNAPCHAT it's KATE NASH I can barely hear myself here on this filter over MY OWN SONG FOUNDATIONS. You know it well. So uhh SHOW ME THE MONEY MATE?!???????? Haven't been on a record label for 5 years & would really appreciate being paid for the use of my work by a giant corporation!!"
"Google says you were evaluated at 22 billion ahead of IPO last year. So dude where's my pay cheque....? This is seriously disappointing and fucked up. Another example of a giant corporate company using artists to make money/for an image/or their actual art and not supporting or funding artists and their community in anyway. So messed up. Snapchat screws over independent artists. Add them to the list. #katenash #foundations #snapchat #wtf"
The music in the filter has since been taken down and Mashable are reporting that Snapchat used a music license from a third-party company that claimed to have full rights for the song, which would mean that Snapchat might not be entirely at fault here.
Whether Kate will get compensation for the many thousands of times people would have likely used her music in the app is yet to be seen. The song in the snapchat filter is almost identical to her song 'Foundation', which was a massive hit in the UK when it was first released in 2007, so it is totally possible that the creators of the music in the filter were aware of the song. We'll let you know how this one pans out.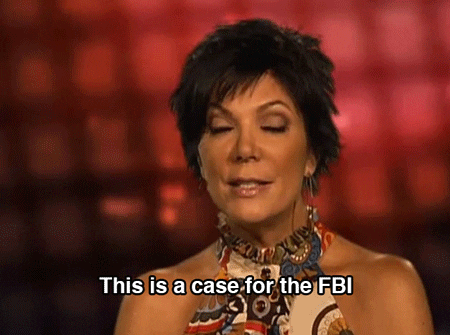 Giphy