12 Lives That Have Already Been Ruined By The Snapchat Map Update
28 June 2017, 15:26 | Updated: 24 July 2017, 09:21
Honestly, Snap Map is out here ruining lives and relationships.
The 73 people who still use Snapchat found their lives turned upside down this week when the app unveiled its brand new feature - a Snap Map that lets everyone on your friends list find your exact location and allows you to secretly sleuth on the whereabouts of your ex-boyfriend.
Essentially, the new feature on the app has the potential to expose you as someone who never leaves the house and your friends as full blown snakes after they turn down your offer of hanging out to spend time with someone else if the location services on your phone have been switched on.
People all across the world are being caught out and here are the receipts to prove it.
1) This guy who got caught lying about being at McDonalds and had to pay out compensation in the form of Chicken Nuggets.
I'm taking full advantage of the snapchat update pic.twitter.com/OQhKYQFZcZ

— Keith (@KeithIsRaw) June 23, 2017
2) This (probably) ex-boyfriend who got caught cheating with a blonde Bitmoji.
He won't be the first and he won't be the last, first victim to fall fatal of the new snapchat update #cheat pic.twitter.com/cVhuwMMbnl

— Morgan Johnston (@Morgan8Johnston) June 22, 2017
3) This person who got exposed sitting in their own home.
y'all are scared of getting caught lying and getting kidnapped but this is why I'm scared of the new update LMAOOO pic.twitter.com/0PW88rXfMK

— $am™ (@toxickilos) June 24, 2017
4) The friends who decided to make plans without you.
new snapchat update doing me dirty, how am I supposed to tell my friends I'm 10 minutes away when they can see that I'm at home chillin

— #cashcarti #trashboi (@trashboicarti) June 24, 2017
5) This guy who got caught lying about his ETA.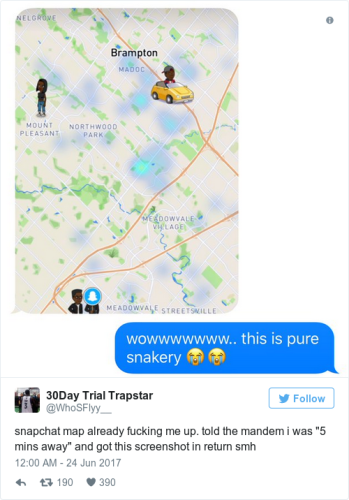 Twitter
6) This couple whose secret relationship probably just got exposed.
Welcome to the new Snapchat update lmao pic.twitter.com/PEIAZ9XFDF

— Black Messiah (@shaniggles) June 25, 2017
7) This guy who used his poor Grandma as an excuse to get out of plans with his friend.
Snapchat gonna make me lose some friends pic.twitter.com/DFHblOKej6

— Youssef Mokhtar (@Youssefmokhttar) June 25, 2017
8) This devastating performance from "Mr. Steal Yo Girl" in his yellow coupe.
i literally just watched my mans push up on somebody bitch pic.twitter.com/1FKrKLgIvn

— Gg. (@UhSoul) June 24, 2017
9) When everyone got invited to the party except you...
snap update boutta ruin lives pic.twitter.com/mvaMD7Mp7Y

— lui (@alexissullyy) June 22, 2017
10) This girl whose boyfriend lied about his vacation plans.
via Twitter
11) The girl who got left out of the squad's get together.
when you see your friends doing something fun but they didn't invite you pic.twitter.com/LYs56OYM5J

— Typical Girl (@SoDamnTrue) June 27, 2017
12) Basically, everyone is out here exposing people like Dan Humphrey on Gossip Girl and it's savage AF.
Everytime I open snapchat's map I feel like I'm using gossip girl's map to find people pic.twitter.com/OhkeFo29Iy

— Marifer Amaya (@mariferamaya99) June 25, 2017
____ ____ ____ ____ ____
Listen to the special Game Of Thrones edition of the #PopBuzzPodcast right here or subscribe for free on iTunes to get new episodes sent straight to your phone every Friday.