The Way You Use Snapchat Is About To Change BIG TIME...
7 July 2016, 11:37 | Updated: 8 May 2017, 17:09
Seriously, this changes EVERYTHING.
Snapchat love dishing out those exciting updates, don't they?! Before we begin, let's just get real for a second here. The best thing about Snapchat is that fact that your snaps instantly disappear after 24 hours, right? (Unless your evil friend managed to get a screenshot of the stupid face you just pulled in your story, ofc.)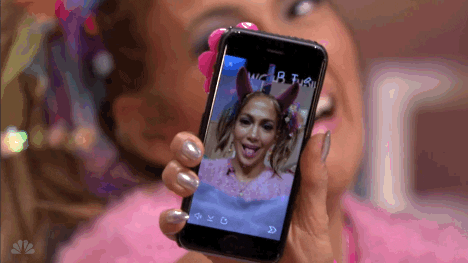 NBC /via giphy.com
Well, forget everything you know because today marks the dawn of a brand new LIFE CHANGING Snapchat era. The app just announced a feature called 'Memories', which is "a personal collection of your favourite moments that live[s] below the Camera screen."
It means you can now store your Snap stories FOREVER and pull them up whenever you feel like!
According to Snapchat's latest blog post, "You can use Memories to create new Stories from Snaps you've taken, or even combine different Stories into a longer narrative! It's fun to celebrate an anniversary or birthday by finding a few old Snaps and stringing them together into a new Story."
Eeeeven thought this update is defeating the entire point of the 24hr self destruct do-over, it's kinda pretty amazing that you'll be able to re-upload and view Snaps from months ago. And all the snaps will be saved to the Snapchat servers, so it'll save space in your camera roll AND there's no need to panic about your snaps if your phone gets lost or stolen!
Warner Bros. / via giphy.com
Thankfully, the update also includes a 'My Eyes Only' locked feature so you can keep all those cringey moments to yourself while you're showing your Mum snaps from your latest holiday!
The update is being rolled out to select users over the next month so keep an eye out for that Hogwarts Letters notification from Team Snapchat!