Snapchat Is Being Accused Of Stealing And People Aren't Happy
24 June 2016, 16:22 | Updated: 8 May 2017, 17:09
Snapchat has since issued an apology surrounding the claims.
I think we can all agree that the best part of Snapchat is the filters, right? The dog one, the flower crown, the beauty filter - yaas! But according to various illustrators and professional make up artists, Snapchat has allegedly been "copying" certain filters from their personal portfolios. And after four different cases in as many months, Snapchat just admitted something HUGE about the claims.
Last week, professional make up artist Argenis Pinal noticed that Snapchat had produced a filter that was almost identical to a make up look that he created.
On the right is his original design, and on the left is Snapchat's filter. The caption on his Instagram post reads: "Yes I'm aware of whatever posting on social media can easily be taken but have respect BUT at least ask the artist for the filter idea and give them credit."
A few hours after Pinal had posted the side by side comparison, he said the filter was removed from Snapchat. This isn't the first time they've been called out on their creative filters, either.
Mykie
Some of you may know Mykie as YouTube's insanely talented make up artist Glam & Gore. According to The Ringer, Mykie had created this 'Watercolour' look over one year ago - while the Snapchat filter appeared in the app in April.
From the black outline of the facial features down to the colours used in the watercolour effect, the similarities are striking. Initially, Snapchat declined to follow through with Mykie's case but after Pinal's claim and the subsequent statements released by Snapchat, she is now pleased with the attention that the issue is getting.
Lois Van Baarle
@Snapchat @snapchatsupport care to explain why my work was traced without permission for your app graphics? pic.twitter.com/m3eoh0U9Fi

— Lois van Baarle (@loishh) June 11, 2016
When Snapchat's new sticker feature was launched, artist Van Baarle noticed that her illustrations had been directly traced by Snapchat. She cited that the shape and stance of two of her illustrated foxes were too similar to artwork that had popped up within the app.
Alexander Khokhlov
At least credit the artists (Alexander Khokhlov) #snapchatnoswiping pic.twitter.com/J5MFQ3jKwn

— L.A. (@LeninaACG) June 14, 2016
And remember this one from a few months ago? Khokhlov's fans noticed similarities between the filter and the art - which was made in 2014 - and called the creatives behind the filter out it.
In a statement to Buzzfeed News regarding the "stolen" filter, a Snapchat spokesperson said: "We agree that this lens is similar to other artists' creations and we have removed it. We are sorry for this embarrassing mistake and we are taking action to make sure it won't happen again."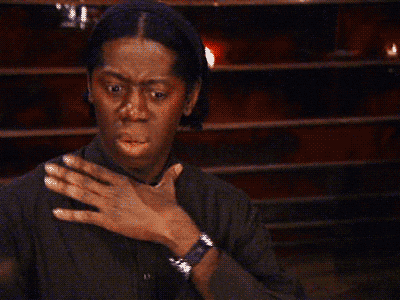 via giphy.com
Since Pinal's Instagram relevation, Snapchat released another statement to The Ringer stating, "The creative process sometimes involves inspiration, but it should never result in copying. We have already implemented additional layers of review for all designs. Copying other artists isn't something we will tolerate, and we're taking appropriate action internally with those involved."
Let's hope that's the end of that then!