All The Times Tumblr Nailed Your Sarcastic Aesthetic
13 January 2016, 17:35 | Updated: 8 May 2017, 17:09
PEAK SARCASM
Tumblr gets your aesthetic. If it's not nailing everything about your all black wardrobe, then it's definitely nailing your sarcastic vibes.
1) The most taxing problem for you is flirting.
2) Seriously... it's an uphill struggle.
3) When someone asks you what you'd like to have written on your gravestone...
4) Your sarcastic flair means you can keep your enemies on their toes.
5) This has probably happened to you once or twice, right?
6) Your sense of humour could be described as an 'acquired taste'. #NotForEveryone
7) The accuracy! OHHHH THE ACCURACY!
8) These are the three pillars of your aesthetic. You need all three to thrive.
9) Sometimes your sarcasm reaches such peak levels, you start having an existential crisis.
10) All of these things fall out of your mouth dripping with the stain, and you're not even sorry.
11) Let's face it... you're always the funniest person in the room. It's not your fault that the peasants can't handle your truth.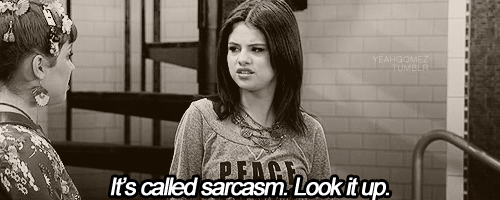 Disney / via tumblr.com
Slé.