Twitter Just Celebrated Its 10th Birthday, Here's How It Changed Everything
21 March 2016, 17:42 | Updated: 8 May 2017, 17:09
Do you guys remember your life before Zayn Malik tweeted this to Louis? Because we don't.
Happy birthday, Twitter! The microblogging site has been the subject of some contentious debate about its future as of late. Despite the mass exodus of early 2016, Twitter is celebrating its 10th birthday today. I don't know about you but Twitter is probably the most useful and entertaining website I look at each day. So why not take a trip down Twitter memory lane.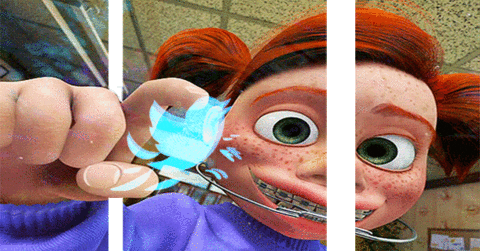 March 21, 2006 - Twitter Daddy, Jack Dorsey sends his first tweet.
just setting up my twttr

— Jack (@jack) March 21, 2006
This is a huge moment. Twitter's co-founder and current CEO, Jack Dorsey really gets things going with a surprisingly standard first tweet. Now, Twitter racks up an average of 6,000 tweets per second and around 200 billion tweets per year. And, to think, it all started with Jack Dorsey just just setting up his "twttr".
August 23, 2007 - Chris Messina suggests '#' as a way to group messages. Accidentally invents the "twitter hashtag". A cultural phenomenon.
how do you feel about using # (pound) for groups. As in #barcamp [msg]?

— Chris Messina (@chrismessina) August 23, 2007
Chris is 35 now so lets just say his suggestion helped revolutionize the internet when he was aged 26. Now, of course, we know the power of a hashtag/trending topic. When something is happening in the world, usually the first place we look is at the twitter tag. It's a huge hallmark of Twitter and a massive step towards the platform becoming as ubiquitous as it is.


April 17, 2009 - Ashton Kutcher becomes the first person to reach a million followers on Twitter.
My millionth follower was... @Sinnersatre100 thanks for you follow!

— ashton kutcher (@aplusk) April 17, 2009
Back when having a million followers was a massive deal, Ashton Kutcher became the very first person to reach the monumental milestone. This happened two years after twitter was born. Meanwhile, in 2016, Taylor Swift has more people following her on Twitter than the entire population of Britain. Wild.

2011 - Twitter gets its first political revolution in the form of the #ArabSpring.
Mohammed Bouazizi's suicide wasn't an act of bravery but one of pure desperation. One doesn't set himself on fire out of valor.

— Mishaal Al Gergawi (@algergawi) January 14, 2011
During the week before Egyptian president Hosni Mubaraks resignation, for example, the total rate of tweets from Egypt — and around the world — about political change in that country ballooned from 2,300 a day to 230,000 a day. Videos featuring protest and political commentary went viral

Washington.edu

By 2015 - The first sitting British Queen, U.S. President, and Pope have all joined twitter.


By 2015 #BlackLivesMatter goes from a twitter hashtag to America's second wave civil rights movement.
If you think the Civil Rights Movement ended in 1968, you're dead wrong #BlackLivesMatter

— Boston Gregg (@Bostonofgregg) March 21, 2016
In the wake of rising police violence against African Americans, Twitter responds accordingly. The Black Lives Matter movement is born from a single hashtag. It is able to mobilize protesters and events across the country and becomes a contentious moment in social media discourse.
Other notable pop culture moments?
Drake drops an entire album via twitter
Zayn asks Louis if he remembers having a life
Nicki Minaj calls out the systematic racism of MTV via twitter
Amber Rose tweets about Kanye West's butthole
Kim Kardashian tweets her nude, sets haters on fire.
And if you're wondering why people love Twitter so much, you needn't look further than...Twitter.
I #LoveTwitter because I managed to sell a tumble dryer on DM to someone last year. Keith

— Keith Mallender (@KeithMallender) March 21, 2016
My favourite thing about Facebook is Twitter#LoveTwitter

— Craig Deeley (@craiguito) March 21, 2016
Twitter is not just a triumph of technology, it's a triumph of humanity - @Biz #LoveTwitter

— FashionweekNYC (@FashionweekNYC) March 21, 2016
Twitter lets marginalized & underrepresented segments of society speak for themselves, interact & challenge status quo. Power. #LoveTwitter

— Semhar (@Semhar) March 21, 2016
Happy birthday, Twitter!