Here's How To Get The Perfect Vintage Lo-fi Aesthetic For Your Instagram Feed
5 April 2018, 18:20 | Updated: 5 April 2018, 18:34
All the apps and tricks to try that will make your Instagram feed look 90s AF.
Seeing as we're smack dab in the middle of a 90s revival, it should come as no surprise that vintage/lo-fi Instagram aesthetics are all the rage.
All your faves from Ariana Grande and Charli xcx to Millie Bobby Brown, Selena Gomez, and Kim K are all about that laid back 90s insta feed. Here are some of the apps and tricks you'll need to achieve the highly coveted look.
1) Huji cam
Huji cam is taking you all the way back to the days of disposable cameras. It's pure 90s 35mm goodness. From the light leaks to the date stamp in the corner, you'll feel like you've just picked up a stack of photos developed at the drug store. Millie Bobby Brown has been known to use this app, and it's a fav among Instagram "it" girls everywhere.
2) Camcorder - VHS Home Videos
This app basically replicates the format of your childhood home videos. It's another Instagram favourite and will definitely spice up your vacation videos.
Charli xcx and Ariana Grande are big fans of a camcorder moment on Instagram. They might actually have someone that films in analog, but this app is a pretty decent dupe for the real thing.
3) Photomosh
Photomosh is a really interesting desktop application that adds vintage effects to images. You can edit your images with motifs like "RGB shift" and flickering out TV. You can even upload still images, add moving effects, and download them as gifs like we've done below.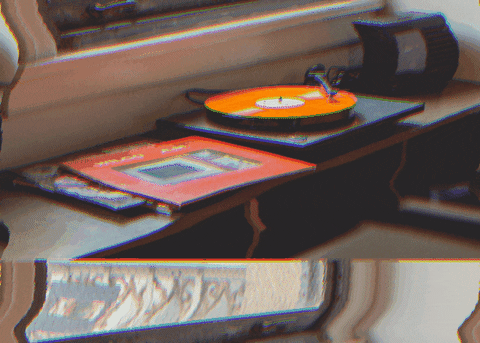 via Unsplash/Travis Yewell/Photomosh
4) A Color Story
There are lots of presets and filters within this photo editing app. You can achieve pretty much ANY aesthetic with A Color Story. This one has a ton of in-app purchases, so you may have to drop some coin to get the filters you really really love. Other than that, the free editing options are intuitive and useful, especially if you like to run your pictures through multiple editing apps.
5) The Instax + VSCO Cam photography hack
Kim Kardashian has been trying out a very interesting photography hack for a while now. She's been wading deep into quintessentially 90s aesthetics and she's no stranger to a vintage home video moment.
So, how does Kim Kardashian get her photos to look so lo-fi and vintage?
First, she takes a photo with an instant camera like Instax.
via Unsplash/Jakob Owens
Once, she has the physical picture she wants, Kim simply takes a photo of it with her phone and runs it through an app that has nice presets and filters--let's say VSCO cam for the sake of argument. Et voilà! Ladies and gentlemen, we have ourselves a vibe.

Ariana Grande is a fan of this photography hack as well.
VSCO Cam App Store
VSCO Cam Google Play

VSCO is probably one of the more popular photo editing apps out there. There are DOZENS upon DOZENS of presets to help you achieve that 90s lo-fi look. Of course, if you're feeling a bit vibrant and HQ, there are plenty of presets to help you achieve that vibe too.

6) Glitchr
Google Play only
The user interface of this app is EXTREMELY 90s. You can generate random visual glitches in your photos and add a VHS overlay to your pictures as well.
via Glitchr/Unsplash - Toa Heftiba