Here's What Happens When You Become An Unflattering Internet Meme
30 March 2016, 16:55 | Updated: 8 May 2017, 17:09
"The first time I saw this meme pop up in my social media feed, I have to admit, it hurt to breathe."
"The first time I saw this meme pop up in my social media feed, I have to admit, it hurt to breathe," wrote Prison Break actor, Wentworth Miller.
Earlier this week, Miller revealed that he was the subject of a Lad Bible meme that body shamed his appearance from a time when Miller admits he was overweight and suicidal.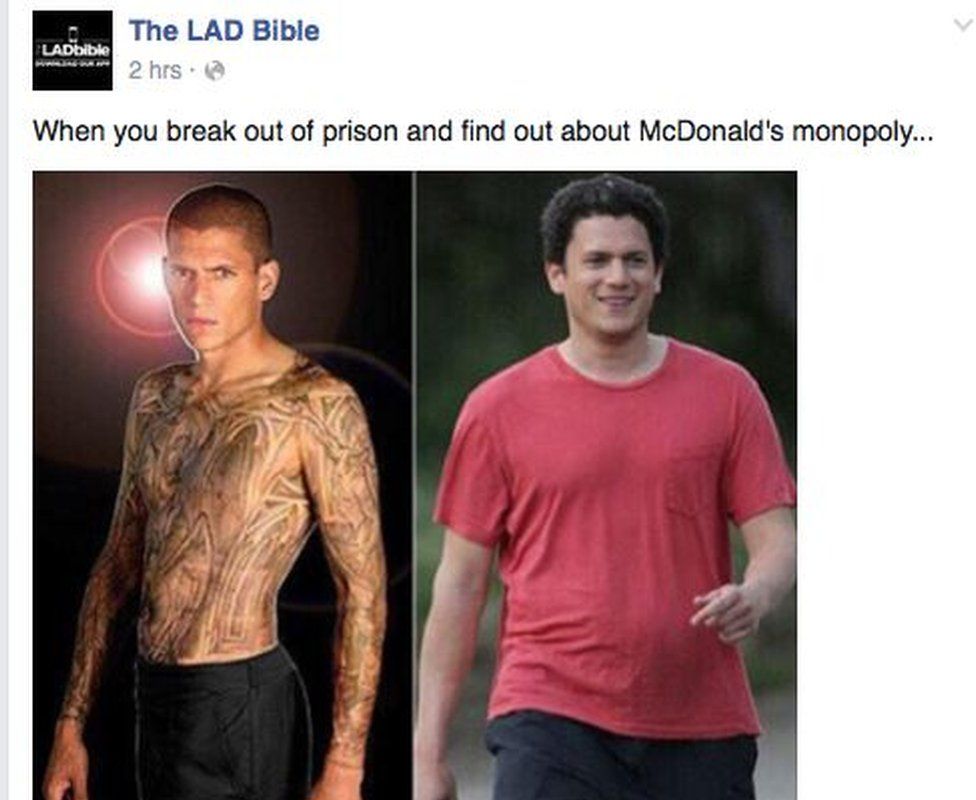 Miller wrote a Facebook post that led to an apology from the Lad Bible, but most people who become run away memes aren't fortunate enough to have a platform.
Sometimes waking up to discover that you're a "viral meme" isn't all that bad. Take Alex from Target, Damn Daniel or the Ridiculously Photogenic Guy. They all enjoyed relatively harmless attention after becoming memes on the internet, mainly as a result of being pretty good looking. The rule of thumb here is that if you're a moderately attractive young white guy, becoming a meme is usually a pretty painless experience.
Then there are the not so nice memes.
There's the sad story of Jessi Slaughter (now Damien Leonhardt), an 11 year old who became a meme after a video of their father threatening "cyberbullies" went viral online.
Then there is the story of a Taiwanese model who became a meme and the subject of a hoax story. She says her career is ruined as a result of this meme and that she has a hard time booking jobs because of it. Even her family and fiancee's family have questioned whether the "plastic surgery" meme is true.
Wentworth Miller isn't even the first to fall victim to the side by side celebrity weight gain meme.

Britney must be used to it by now. She has been essentially meme'd to death, especially when it comes to photos from 2007 (the year of her infamous breakdown). But these photos can still be jarring. Most notably, a picture of Britney taking an umbrella to a car that year is one that lives forever in our collective psyche.
Looking back on a well documented but troubled past must be difficult, especially when you know you were going through mental health issues at the time, like Wentworth and Britney.
Similarly, just being a regular person now carries the danger of becoming a meme--and maybe a not-so-nice one.
isn't it weird that my greatest fear is becoming a meme? oh, the modern age

— champagne chachi (@ssshailee) March 23, 2016
My worst fear is becoming a meme

— emma (@jetaimemma) March 20, 2016
"We're all one wrong move away from becoming a meme" - @MeggieLite

— Hannah Snyder (@Hannahbeatdown) March 20, 2016
mostly thankful that I've made it this far without becoming a viral meme

— kalli. (@itskaaalli) March 20, 2016
I'm just trying to get through life without becoming a meme.

— Pat Lotane (@patlotane) March 20, 2016
One thing is certain, normal people truly fear becoming memes. We all like to laugh at them, but live in constant fear of becoming one. This is because, unless you're a moderately attractive, young white guy, there is no chance you will get turned into a nice meme. And, as Wentworth Miller recalls, scrolling and seeing a meme of yourself could make it "hard to breathe" in that very surreal initial moment.
Memes like Miller's aren't funny (they won't get shared by me, that's for sure) and lean a little too heavily on the 'isn't weight gain hilarious' angle. Now, when the risk of becoming a meme is higher than ever, perhaps it's time to scale back on sharing memes about people's physical appearance.
You can never be sure what a person is going through. As Miller points out, he was suicidal at the time he became a meme. Any person who shares a meme of a person clearly distressed, in trouble, or undergoing a physical transformation should think long and hard about the fact that they are no better than a playground bully.