Charli D'Amelio loses over 500,000 TikTok followers after backlash to YouTube video
19 November 2020, 14:54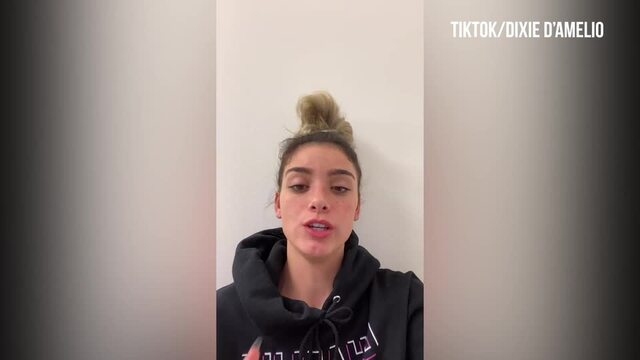 Dixie D'Amelio addresses backlash surrounding her family YouTube video
Charli had previously gained 700,000 followers in just three days, almost reaching her 100 million goal.
Charli D'Amelio is rapidly losing TikTok followers after she was criticised for her behaviour in a YouTube video with her family.
On Monday (Nov 16), the D'Amelio family (Marc, Heidi, Dixie and Charli) debuted their new YouTube series "Dinner With The D'Amelios" where they were joined by surprise guest, YouTuber James Charles.
Charli and her older sister Dixie D'Amelio received a lot of backlash for their behaviour throughout the video, which included Dixie gagging at the table after trying a snail, and Charli asking: "Do we have any dino nuggets?" in front of their personal chef.
READ MORE: Charli D'Amelio claps back at Zoe Laverne following leaked audio drama
Dixie has now addressed her comments on TikTok insisting that she and her family have an "amazing friendship" with their chef. She explained: "I would never in any way want to be taken as disrespectful, especially from an out of context 15-second clip. My team knows that I throw up a lot, I can throw up at the smell, the thought or the taste of anything. So when they saw the snails they thought oh let's get her and see if we can get a reaction out of her."
She continued: "I love chef and I would never disrespect him in any way, maybe don't judge someone's personality over a 15-second clip."
Watch the D'Amelios' video here.
Our First Mystery Guest | Dinner With The D'Amelios
Charli was also pulled up for moaning about not reaching 100 million followers on TikTok in less than a year (FYI, Charli is already the most-followed person on TikTok).
The family were discussing how they had skyrocketed to success within just one year. Charli complained: "Ugh, I wish I had more time. Because imagine if I hit 100m a year after hitting a mill."
"Was the 95 [million] not enough for you?" James sarcastically quipped. Charli then replied: "Well, I was just like saying, like, even numbers…"
Well, Charli's not making that 100 million now...her follower count has drastically dropped by over 500,000 followers. According to Social Blade, on Wednesday (Nov 18), Charli had 99,400,000 followers having gained more than 700,000 followers in the last three days. However, according to Live Counts, that figure has dropped to 98,849,958 at the time of writing.
Addison Rae, it's time.