Dixie D'Amelio responds to Ariana Grande dragging TikTok stars
4 November 2020, 12:18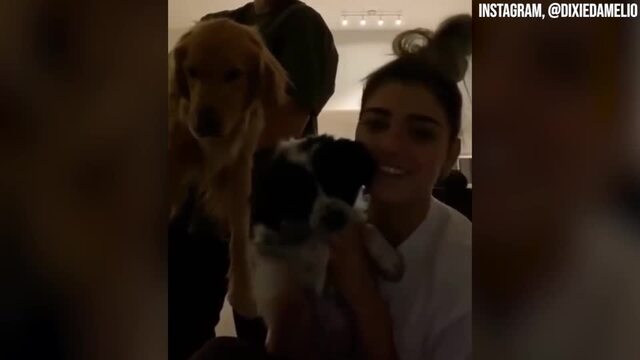 Dixie D'Amelio and Noah Beck show fans their dogs on live
Ariana Grande has criticised people, like Dixie D'Amelio, who've been partying at Saddle Ranch and ignoring the seriousness of the coronavirus pandemic.
Dixie D'Amelio has addressed comments Ariana Grande made about people going to Saddle Ranch and being irresponsible.
Fans of Dixie D'Amelio and her fellow TikTok stars will already know that Saddle Ranch is a very popular hangout spot for LA influencers. Amid the coronavirus pandemic, popular TikTok creators, such as Dixie, Addison Rae, Bryce Hall and numerous other social media celebrities, have been spotted, ignoring medical advice to stay at home, and partying at the restaurant.
READ MORE: Ariana Grande rules out touring until 2022
Recently, Ariana Grande called out these influencers and now Dixie has responded to Ariana's remarks in a new video.
Speaking to Zach Sang on the Zach Sang Show about the coronavirus pandemic and ongoing lockdown restrictions, Ariana said: "Of all the things that we could have done, couldn't we have just stayed home for a few more weeks like all the other countries that were fine, and are better than we are."
She then added: "Did we really all need to go to fuckin' Saddle Ranch that badly that we couldn't have waited for the deathly pandemic to pass? We all really needed to put on our cowgirl boots and ride a mechanical bull that bad? We all needed that Instagram post that badly?"
In response, Dixie spoke to the paparazzi about it yesterday (Nov 3). She said: "I don't really know what to think. I mean, she's right. She's right, yeah. She's a queen, I love her." When asked if she'd like to collaborate with Ariana, Dixie said: "I'd love to."
In other words, Dixie agrees with Ariana so we imagine that we won't be seeing her back in Saddle Ranch anytime soon.