Adam Levine DM memes are going viral amid 'sexting' claims
22 September 2022, 12:29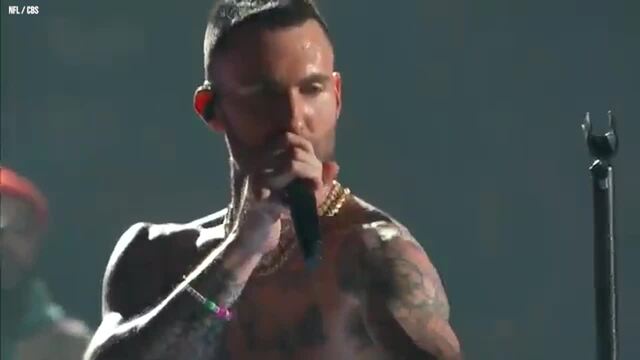 Adam Levine gets shirtless during the Super Bowl halftime show
Adam Levine's alleged DMs have been turned into a meme – with "that body of yours is absurd" and "I may need to see the booty" screenshots going viral.
Adam Levine DM memes are sweeping the internet amid claims he sent "inappropriate" and "flirty" messages to several other women while married to wife Behati Prinsloo.
Instagram model Sumner Stroh first shared the claims on TikTok in a video exposing the alleged messages that Adam Levine had sent her over the course of their "affair". (Sumner describes it as an affair, while Adam denies that claim.)
Since Sumner's first video (Sept 20), more women have shared messages allegedly from the Maroon 5 frontman – and people think each screenshot is as cringeworthy as the next.
Of course, the situation itself is absolutely awful and people have already shared their messages of support for Behati, who is still married to Adam and is expecting their third child. (Sumner Stroh has also issued an apology to the Victoria's Secret model, too.)
That said, the internet has zero chill and has now turned the screenshots of Adam's alleged DMs into a meme...
In one screenshot of messages shared by Sumner, Adam allegedly wrote: "It is truly unreal how fucking hot you are. Like it blows my mind."
That one particular line has now been turned into its own meme. From the overheating of a laptop, to some of the hottest foods known to man, people have been taking those DMs and applying them to everyday situations.
Comedian Maryka also shared messages allegedly sent from Adam to her Instagram Stories on September 20th. In another message, Adam tells Maryka, "Holy fuck. Holy fucking fuck. That body of yours is absurd."
After that, Maryka then sent a photo of herself to Adam, he allegedly replied: "I may need to see the booty. Fuckkkkkkkkkkkkkkkk."
Of course... people have run wild with those tweets as well, and the pirate jokes - amongst many others – have come flooding in.
In his statement reponding to Sumner Stroh's initial claims, Adam Levine wrote: "My wife and my family is all I care about in this world. To be this naïve and stupid enough to risk the only thing that truly matters to me was the greatest mistake I could ever make.
"I will never make it again. I take full responsibility. We will get through it. And we will get through it together."
READ MORE: Adam Levine releases statement amid claims he cheated on wife with Sumner Stroh
READ MORE: Sumner Stroh apologises to Adam Levine's wife Behati Prinsloo after "affair" claims
Rina Sawayama Reacts To "Industry Plant" Rumour and Paints A Self-Portrait | PopBuzz Meets