Did this iconic Vine inspire the "macaroni in the pot" lyric in Cardi B's 'WAP'?
21 August 2020, 13:07 | Updated: 5 October 2020, 11:11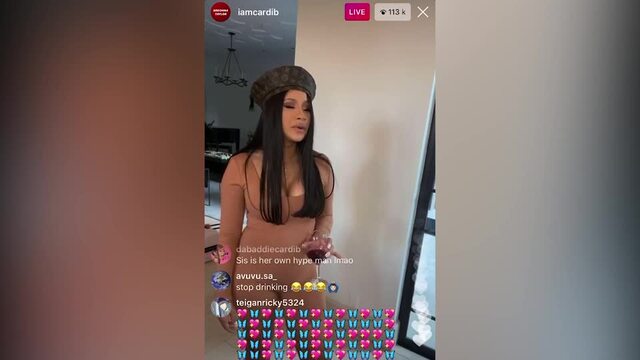 Cardi B attempts the WAP Dance Challenge on Instagram Live
And the original creator of the Vine has responded in a TikTok video.
Vine might be dead but its cultural impact is more relevant than ever, and it might have even inspired a line in Cardi B and Megan Thee Stallion's controversial ode to sex 'WAP'.
For those that don't know, Vine was a hugely popular video app which allowed users to create videos that were seven seconds long that played on a constant loop. It launched in 2013 but closed down in 2017 (although the archive was still available until 2019). However, its influence can still be seen today, most noticeably in the comedy videos you see on TikTok, and the endless Vine compilations that float across other social media apps.
Now, people think that an iconic Vine has been brought back to life thanks to a line in Cardi B and Megan Thee Stallion's 'WAP'.
READ MORE: People are being hospitalised after doing the WAP dance on TikTok
The line in question on 'WAP' (which stands for 'Wet Ass Pussy', in case that passed you by somehow) is "Macaroni in a pot, that's some wet-ass pussy", which some users think is a reference to a Vine made by Mohamad Zoror in 2014 when he was just 16 years ago.
As Mohamad told BuzzFeed News, in the Vine, Mohamad's mum is cooking him some macaroni over a stove. While she's cooking, Mohamad walks up behind her and says: "That's what good pussy sounds like. Lmao." She responds by "Hmar!" which is Arabic for "donkey", i.e. she's calling him a dumbass.
The joke already existed in Black communities for years – Mohamad said he'd seen it in a tweet — but as soon as he posted his video on Vine, the clip went super viral.
Fast forward six years and Cardi's line in 'WAP' reminded everyone of the Vine, and they wondered if the Vine actually inspired the lyric.
Here's the original video so you can decide for yourselves.
Mohamad also thought he might have something to do with the lyric, and so he responded to the lyrics on his TikTok account.
In the video, referencing a Genius annotation which links the line to his Vine, Mohamad jokes: "Cardi, can I have like 100 dollars? Is that OK?"
Speaking to BuzzFeed News, Mohamad said he's certain that Cardi B knows his work, because she once reached out to him when she was on Vine and said that she was a fan of his and hoped he would share her videos.
Cardi is yet to comment on whether the lyric is a reference to the Vine or just a reference to the joke that existed before the Vine, but either way it's nice to see an old Vine get some love in 2020.