No Joke, The Cash Me Outside Girl Will Be An Actual Millionaire By The End Of 2017
17 March 2017, 16:03 | Updated: 8 May 2017, 17:09
REMINDER: She's only 13...
If you thought 2016 was a sh*t show, just wait until you hear this update on how much the Cash Me Outside girl is now worth.
Apparently, Danielle Bregoli has a current net worth of $200,000. How on earth has she bloody managed that?
Well, thanks to her success and popularity on social media, brands have been getting in touch and asking her to promote their products for a VERY tasty wage. Danielle has amassed 8 MILLION Instagram followers since January (her username is bhadbhabie if you wanna make that 8 million and one) and she's showing no signs of slowing down.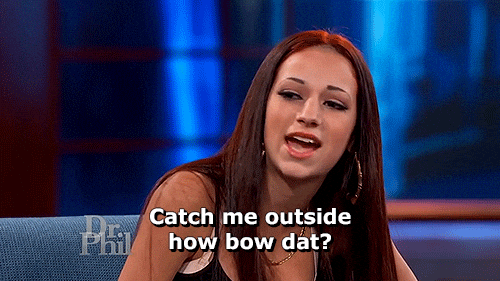 via Reddit.com
If you stop by her Instagram page - which is an absolute TREAT by the way - you'll see the sponsored posts and some of them have garnered over half a million likes in as little as two days.
But here's where it gets truly wild. Danielle shared a sponsored post for the insta-famous fitness brand FitTea the other day and it has been watched almost TEN MILLION VIEWS. That is a LOT of millions.
Just for reference and scale, the last sponsored video that Khloe Kardashian shared (it was a Protein World one if you care) only amassed 2.4m views... and that was 5 WEEKS ago. Kris '10%' Jenner is shook.
According to celebritynetworth.com, Danielle's popularity on the platform could be earning her as much as $50k PER POST. Yeah, that's for just one 5 second video or one single picture. Alternatively, she could net almost $100k per month for a string of product ads.
via giphy.com
If she manages to maintain those figures throughout the year and adds those profits to her income from her merch line and appearance fees, then she will more than likely become a millionaire by the end of 2017... at the age of 13.
WHAT. THE. F*CK.
FX / via giphy.com