Clowns Are Chasing People Through The Woods And 2016 Is A Straight Up Horror Movie
5 October 2016, 11:41 | Updated: 8 May 2017, 17:09
No thank you, please!!!
It's October. American Horror Story is back. Stuff is supposed to be spooky. Trust me, I get it. But you know what I absolutely don't f*ck with? Clowns. Y'all can keep that.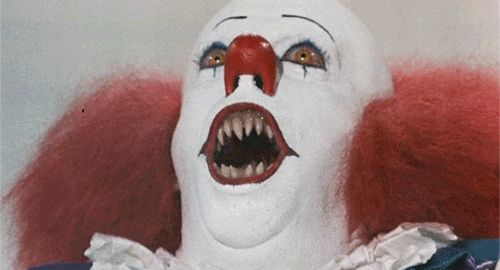 Unfortunately, clowns are having a serious popular culture moment and not in a "children's birthday party" kind of way.
A spate of clown related sightings, including one where a clown was said to be "luring children into the woods", has people sufficiently spooked in time for Halloween.
I have never been scared of clowns a day in my life I'm starting to rethink that cause of all these clowns out here doing some crazy shit.

— . (@emilyannti) October 5, 2016
if any clowns want to murder me im totally down for it

— goth bitch fan accou (@turbothot) October 5, 2016
Clowns terrorizing the streets. A real life billionaire villain running for President. We need you, Batman.

— Nick Diener (@nickdiener) October 4, 2016
While a bunch of the clown sightings are probably fake as hell, let's take a look at this sighting (which is also probably fake but WHAT IF IT'S NOT) and try not to have nightmares tonight.
The man who took the video, Chase Prior, has now made the original Facebook post private, but here's what he had to say about the experience.
Well, this morning I had a rather traumatizing experience. I woke up early to go running with Patrick Williams and we parked by the YMCA to hit the bike path leading toward 21st Street and eventually out toward Evans. Ironically, my friend Zane and I had just been discussing supposed sightings of clowns around the 21st Street / 16 intersection. We had no idea this would happen when we started our run. The video is NSFW due to my language, which I apologize for but I was more than a little shook up. Keep an eye out of this guy or someone like him around the area because this was absolutely terrifying, joke or not. We didn't stick around to find out."

Chase Prior
Right. No more clowns, please. THANKS!

In this week's edition of the #PopBuzzPodcast, we chat to YouTube legend Joe Sugg about his brand new graphic novel "Username: Regenerated" and grill him as he enters the PopBuzz Confession Booth! What is the most embarrassing thing in his web browser history? What does he hate most about YouTube? And when was the last time he sh*t his pants? Find out below!
You can listen to the entire episode right here on Soundcloud, or you can download it straight from iTunes, Audioboom or TuneIn.