This Guy Is Facing Five Years In Jail For Showing His Bum On TV
15 May 2017, 11:29 | Updated: 15 May 2017, 11:33
Remember that guy who tried to pick up Gigi and kiss Kim K's butt? Well he's back at it again with the 'pranks', this time during the Eurovision Song Contest...
This weekend (May 13th) saw the annual glitter and noise fest known as the Eurovision Song Contest take place in Ukraine, an always enjoyable TV extravaganza watched by millions worldwide and celebrating all the most ridiculous outfits and catchy dance melodies the continent has to offer.
But one man chose to sully the good name of Eurovision by crashing the stage during a performance by last year's winner Jamala, getting his bum out and wiggling it around while adorned with an Australian flag.
200 MILLION PEOPLE HAVE SEEN THIS BUM WIGGLE #EUROVISION pic.twitter.com/PkkXKwL5qN

— Christopher O'Rourke (@orourkechris) May 13, 2017
The horror! Won't somebody please think of the children?!?!
Needless to say, Twitter went into an immediate, and hilarious, meltdown.
But not everyone saw the funny side and the owner of the offending buttocks, 'prankster' Vitalii Sediuk, now faces five years in jail or a fine for aggravated battery, according to Ukraine's Minister of Internal Affairs, Arsen Avakov.
.@SBSNews #Eurovision #streaker Vitalii Sediuk - pictured here in a "temporary holding facility" - faces a fine or five years jail @SBSNews pic.twitter.com/GL5hr2g8Da

— Brett Mason (@BrettMasonNews) May 14, 2017
Yikes, that escalated quickly!
Although, tbf, Sediuk is a repeat offender with various other stupid and/or irritating pranks to his name including...
Crashing Adele's Grammy speech.
Attempting to pick up Gigi Hadid.
And, perhaps most famously, attempting to kiss Kim Kardashian's butt.
What is this guy's obsession with people's rear ends?
So basically, while the Eurovision stunt was quite funny, this guy has a reputation of being kind of a professional a**hole so maybe he shouldn't be too surprised if this latest "prank" lands him in the slammer. Hey, at least he's getting all that attention he so clearly craves (bless).
In short, maybe next time, he should be a bit less cheeky.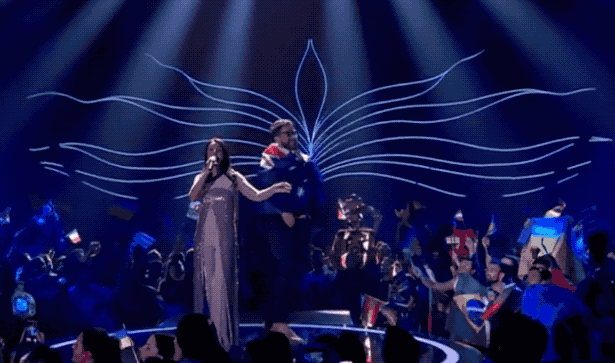 ____ ____ ____ ____ ____
Listen to the #PopBuzzPodcast with Hey Violet right here or subscribe for free on iTunes to get new episodes sent straight to your phone every Friday.