Gen Z are ditching smartphones for "dumb phones" that only call and text
3 April 2023, 17:04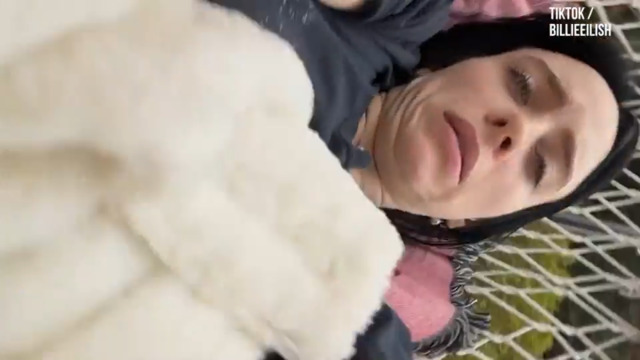 Billie Eilish accidentally drops her phone
The early noughties called, they want their phones back.
Gen Z has discovered the Nokia brick phone and forever iconic flip phone and, suddenly, we've transported back to 2004.
As a teenager who had their first ever Motorola Razr after upgrading from the Nokia phone I got when I was 11 years old, nothing felt cooler. I could live out my dreams of pretending I was Lizzie McGuire and answer the phone in a seriously trendy way, just like Channing Tatum did in She's the Man.
The iPhone was first introduced in 2007, meaning that smart phones were officially in and games of snake were out. Many of my classmates switched their basic mobiles for this shiny new model, and it soon became the norm among millennials. However, the younger generation may be prompting a Y2K mobile phone resurgence thanks to their desire to cut down on screen time.
CNBC has reported that Gen Z are now opting for a "dumb phone" over a state-of-the-art smart phone. In 2022, Nokia sold tens of thousands of "flip and slide phones" each month, while New York City teenagers have been ditching their smartphones and have shunned any new technology to found the 'Luddite Club'.
"If I have one overarching message for my fellow teenagers, it's this: Spend time getting to know yourself and exploring the world around you," high schooler and Luddite Club founding member Lola Shub wrote in a personal essay for Insider. "It's so much more fulfilling — and so much more real — than the one inside your expensive little box."
For those who would rather reach for a classic phone equipped with nothing more than a few addictive mobile games and a highly pixelated camera, there's a Reddit thread full of people sharing their lack of desire to indulge in smart technology. The r/Dumbphones subreddit boasts over 18,000 members, with many looking for "dumb phone" recommendations or sharing their favourite "dumb phone" hacks.
"When I was constantly on my smartphone, I felt like my brain would fog up," user u/Melanin_King0 wrote. "It would be harder to do anything and scrolling on Instagram's Reels and TikTok was sapping my motivation."
Another user said that their son decided to ditch his smartphone and was on the hunt for "dumb phone" recommendations.
"My son is a dumb phone user because he has an addictive personality and will waste countless hours surfing the net when he has a smartphone," wrote u/ShaneFerguson. "He does text extensively so he would love to find a good slider phone like he had back when he was a kid circa 2010."
Weighing in on the rise of the Y2K mobiles, DC Worldwide Device Trackers research director Nabila Popal discussed the potential reasons behind the sales increase.
"I realize some people - perhaps more so Gen Z - are talking about the negative impact that always being 'connected' has on their mental health, and hence returning to old school feature phones," they said. "When looking at the bigger picture, feature phones are on the decline and the recent renewed interest from some folks isn't about to stop this trend."
What do you think? Would you ditch your smartphone?
READ MORE: Gen-Z are bringing back wired headphones as a 'vintage' accessory
ATEEZ Spill Their Secrets In 'The Tower Of Truth' | PopBuzz Meets