Gen Z declare side partings cool again thanks to Sofia Richie's viral look
22 June 2023, 16:18 | Updated: 22 June 2023, 17:13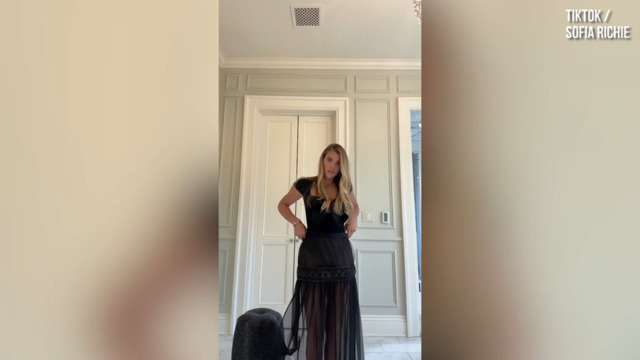 Sofia Richie brings back the side part in new TikTok video
"This is not a drill, side parts are back in."
The year was 2021, people with side partings and middle partings had been co-existing peacefully for years... Until one day, Gen Z decided that the side part was done forever. It was over. They would simply not be seen rocking anything other than a middle part ever again.
In a deep dive into the trend from Vice, side partings (alongside skinny jeans) were seen as Very Millennial, and therefore "old", according to those born between 1997 and 2013.
But now, a mere two and half years later, it looks like the tables have turned once again thanks to Gen Z style icon and versatile parting queen Sofia Richie.
READ MORE: Sofia Richie's wedding has gone viral and people are obsessed with her outfits
After wowing the internet with her stunning, big-budget wedding, Sofia Richie has cemented herself as a style icon for the girlies (millennials, Gen Z and beyond) who enjoy the "clean girl" and effortlessly luxe aesthetics.
Sofia usually wears her long hair in a middle parting, but last week, she posted a handful of TikTok videos with her hair styled into a side parting.
Of course, it didn't take long for her comment section to turn into an absolute shambles with 50% declaring that the side part was officially BACK and the other 50% panicking about the whole thing.
One follower wrote: "I saw Sofia wearing a side part, so I started wearing a side part."
Another added: "SHE SLAYS BUT I CANT GO BACK TO A SIDE PART PLZZZZ IT TOOK SO LONG TO TRAIN MY HAIR INTO A MIDDLE PART."
Others were simply just confused about the whole thing, not even realising that Gen Z had apparently declared the side part over.
The comments right at the top of Sofia's comment section, though? "No side parts are not back you guys don't look like her." WELL THEN!
READ MORE: Gen Z are ditching smartphones for "dumb phones" that only call and text
READ MORE: Gen-Z are bringing back wired headphones as a 'vintage' accessory
Niall Horan Breaks Down Every Song On 'The Show' | Making The Album