Joe Biden's granddaughter Maisy celebrates win on TikTok in the best way
9 November 2020, 20:51 | Updated: 9 November 2020, 20:53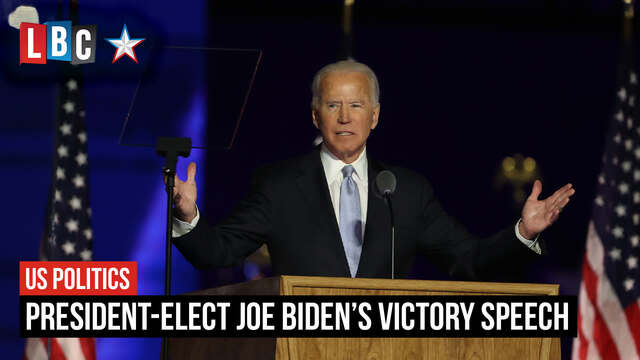 President-elect Joe Biden's victory speech
In the words of Maisy Biden: "hey hey hey goodbye trump"
In case you somehow missed it, Joe Biden and Kamala Harris were announced as the new President-elect and vice president-elect of the United States this past weekend (Nov 7) after a long election process.
In response to the news, cities all around the country erupted in celebration, with crowds dancing in the street and waving flags. No one was more thrilled for Joe Biden, however, than his family. More specifically... his granddaughters.
After the news was announced, Biden's eldest granddaughter Naomi Biden shared a photo from the moment the family heard the race had been called.
Naomi wasn't the only Biden granddaughter to have celebrated the news on social media either. Her younger sister Maisy Biden took to TikTok to share an absolutely iconic celebration video.
READ MORE: Kamala Harris is being praised for including her gender pronouns in her social bios
Maisy Biden, who is friends with Sasha Obama, can be found on TikTok under the name @scoobeydoobey.
The 18-year-old often shares videos with friends and family members but her iconic election videos have now sent her viral. In one video, Maisy thanks the state of Nevada for flipping blue alongside her cousin Natalie Biden. And in honour of her grandfather's victory, Maisy posted another TikTok to celebrate...
Set to the song 'Kiss Him Goodbye' by The Belmonts, Maisy posed in a t-shirt which had the face of her grandfather and the words "Joe - The Vice President" written underneath.
Maisy then crossed out the word "Vice" with a pen so it now just reads "The President." The simple caption also reads: "hey hey hey goodbye trump"
Maisy isn't the only one from the Biden/Harris squad sharing hilarious election TikToks either. Her younger cousin Hunter Biden is also on the platform (@hunter.biden).
Biden's youngest granddaughter Natalie Biden is also on TikTok at @natbiden – and she's got 243k followers already. Maisy's elder sister Finnegan is also on the platform, although her profile is currently private.
Kamala Harris' niece Meena Harris is also on the platform and has been sharing some hilarious behind-the-scenes videos from election week, including one of Harris' step-daughter Ella Emhoff arriving with bags of McDonalds.
Already looking forward to the rise of The White House Hype House tbh.