19 Obama/Biden Memes That'll Make You Laugh Then Sob Uncontrollably
13 January 2017, 16:51 | Updated: 8 May 2017, 17:09
Joebama will rise again.
The moment is upon us, world. It's officially time to say goodbye to the world's most high profile bromance of President Barack Obama and Vice President Joe Biden.
Nothing will shake the unbreakable bond that has formed between the POTUS and VEEP over the past eight years. These memes - and the resurfaced pictures of a Young Joe Biden, hiyaaaaa - have managed to save our timelines from certain death. Here, have a laugh on us!

1) Joe doesn't deserve this.
BIDEN: I'mma punch him when he comes here.
OBAMA: No, Joe. Don't do that.
BIDEN: Punch him round the back.
OBAMA: Joe.
BIDEN: Kick, then. pic.twitter.com/TmbPfrBalT

— SimonNRicketts (@SimonNRicketts) November 9, 2016
2) The bromance is real.
Biden: bro come over
Obama: bro we're supposed to be packing
Biden: look I made a flipagram of us throughout our 8 years
Obama: BROO pic.twitter.com/l3YT6FFTUI

— memes (@DailyMemeSuppIy) November 11, 2016
3) IT'S YA BOI BIDEN AND YOU'RE WATCHING... PUNK'D!
"I left a Kenyan passport in your desk, just to fuck with him"
"Joe"
"Oh and a prayer rug in your bedroom. He's gonna lose it!"
"Dammit Joe" pic.twitter.com/mEWo91OLuA

— Josh Billinson (@jbillinson) November 11, 2016
4) Who gon' check me boo?
Biden: Trump better not get in my face... cos I'll drop that motherfucker
Obama: Joe.
Biden: pic.twitter.com/oB6kUbBvuQ

— Mollie Goodfellow (@hansmollman) November 10, 2016
5) Y'all bettah sleep with one open, ya get me?
Biden: can i put whoopee cushions under all the chairs before he gets here

Obama: joe im on the phone

Biden:*muttering* u didnt say not to pic.twitter.com/qfjh3ffkPE

— rudy mustang (@roostermustache) November 11, 2016
6) Like heck.
Biden: Like heck am I leaving him any ice cream, Barack here take a cone
Obama: Joe you know I'm lactose into-
Biden: Like. Heck. pic.twitter.com/zXGOTS2pNs

— Mollie Goodfellow (@hansmollman) November 11, 2016
7) You gotta do what you gotta do.
Obama: Did you replace all the toiletries with travel size bottles?
Biden: He's got tiny hands Barack, I want him to feel welcome here pic.twitter.com/e7NRIZ43Ww

— Josh Billinson (@jbillinson) November 11, 2016
8) Please welcome, the Archbishop of Banterbury, Joseph R. Biden.
Obama: "Joe, why are you still holding my hand?"
Biden: "I wanna freak Mike Pence out"
Obama: "But why?"
Biden: "Just roll with it" pic.twitter.com/o5KZZ0Ysgz

— thomas moore (@Thomas_A_Moore) November 12, 2016
9) I SAID WHAT I SAID!
Biden: I'm not giving them the wifi password

Obama: Joe...

Biden: I said what I said pic.twitter.com/xaqgxU3k9Z

— WORLDSTARHIPHOP (@WORLDSTAR) November 14, 2016
10) One last time.
11) *cries*
Obama:tell the world were bros
Biden:*whispers* were bros
Obama:bro why'd u whisper
Biden:ur my world bro
Obama:bro pic.twitter.com/pTD5xaQjHT

— This Makes No Sense (@NonsensPosts) October 24, 2016
12) FFS Joe.
Obama: *whispers* put the laser pointer away or give it to me pic.twitter.com/7Gs3y4p2iM

— Barack & Joe (@bidenandobama) November 12, 2016
13) Aspire to be this petty.
biden: he cant go in my room
obama: joe...
biden: im not gonna tell him the secret password pic.twitter.com/Pop9oqza9Y

— gary from teen mom (@garyfromteenmom) November 13, 2016
14) Wait? WHAT?
Barack: Sign here, and here
Joe: And then the adoption is final & you and Michelle are my parents?
Barack: No, Joe pic.twitter.com/M5yf2SDuFG

— Jill Biden (@JillBidenVeep) November 13, 2016
15) YOUR FAVE IS PROBLEMATIC.
Barack: Who'd you vote for?
Joe: I wrote in Harambe pic.twitter.com/lOIegUBBzq

— Josh Swenson (@jswenn) November 14, 2016
16) YA BURNT!
biden: cmon you gotta print a fake birth certificate, put it in an envelope labeled "SECRET" and leave it in the oval office desk
obama: joe pic.twitter.com/UTtv1JkE5o

— jomny sun (@jonnysun) November 11, 2016
17) SIKE!
Joe: "What if we take batteries out of all of the remotes before we leave"

Barack:" Joe we can't-"

Joe: "Or we could cut all the cords" pic.twitter.com/MLao1wjfvo

— Historical Pics (@HistoricalPics) November 12, 2016
18) FACT: Kevin McCallister grew up to be Vice President Joe Biden.
Biden: Ok here's the plan: have you seen Home Alone
Obama: Joe, no
Biden: Just one booby trap
Obama: Joe pic.twitter.com/IDTc2L1sKF

— Dean E. S. Richard (@deanfortythree) November 11, 2016
19) Near... far... wherever you are...
"barack please don't leave me with them"
"joe you're leaving when I leave"
"oh right lmao love u" pic.twitter.com/fYzuXq2xtw

— memes (@memetribute) November 12, 2016
Bros before hoes. Always.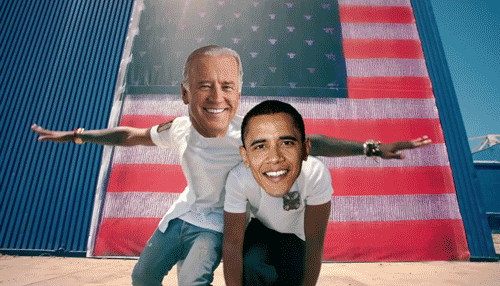 via giphy.com