JoJo Siwa keeps roasting her haters on TikTok and it's hilarious
19 May 2020, 16:21 | Updated: 15 July 2021, 17:01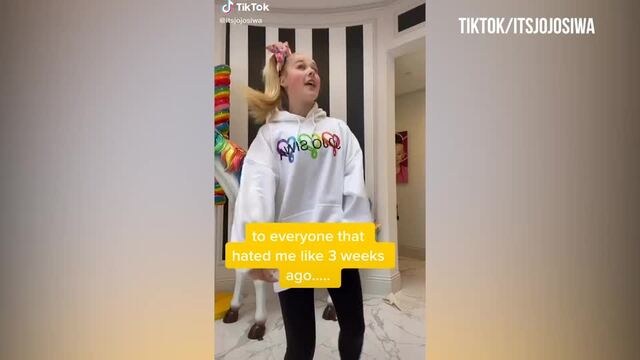 JoJo Siwa keeps roasting her haters on TikTok
"If you yell at me, I'm gonna cry... but if you hate on me, I'm gonna laugh hahah!"
JoJo Siwa is an icon, she's a legend and she is the moment. Now come on now.
The 17-year-old YouTube sensation has been steadily racking up millions and millions of followers on every social media platform, and now she's on her way to becoming the most iconic TikTok user in the history of TikTok.
READ MORE: JoJo Siwa bought a huge new house and it has its own merch "store"
If you're familiar with JoJo, you'll also probably be familiar with the countless memes and comments about her appearance, and her penchant for glitter and colourful clothing, which has been labelled "childish" by people on the internet.
JoJo is familiar with those remarks too, and she's now using her TikTok account to absolutely roast her haters over their comments on how she lives her life.
In her latest TikTok video, JoJo takes on the TikTok 'Wipe It Down' challenge to play into the comments about her taking her hair down.
The challenge sees users wipe away their "real" image to reveal either a cosplay costume or an alter-ego. In another video, JoJo also directly addresses the speculation that she's starting to ditch her usual glittery style because her contract is almost finished. She's not, by the way.
In one of her most watched Roasting The Haters™️ TikToks, JoJo focuses on all the tired comments people leave on her videos, including one that compares her to Charli D'Amelio, who is slightly younger than her.
The caption on this one reads: "If you yell at me, I'm gonna cry..... but if you hate on me, I'm gonna laugh hahah!"
JoJo sees your jokes about her hairline and raises you... even better jokes about her hairline x
JoJo has once again responded to the continuous memes about her height in the best way.
She's even commented on the sudden shift in messages people left on her videos ever since she started calling people out.
Duetting with one of her haters? Whew!
Taking an opportunity to promote her own merch while collecting a few people? Queen!
Recreating memes about her being bald? CHECK!
It's not the first time JoJo has directly addressed the comments about her on social media. After noticing hundreds of tweets about how tall she is, JoJo posted a video titled "The Truth On Why I'm So Tall..." and her response was amazing: "I have literally seen so many tweets about why I'm so tall," she said. "I don't know, maybe I've just been tall my whole life so it doesn't phase me, but it phases some of you guys!"
In the Q&A video, JoJo is asked how she responds to her haters, to which she replies, "Honestly, I laugh at it. I just focus on the nice people, not on the negative people."
Like we said, an icon, a legend and the moment. You can find JoJo on TikTok at @itsjojosiwa.