K-pop fans flood police 'snitch' app with fancams in support of protesters
2 June 2020, 14:43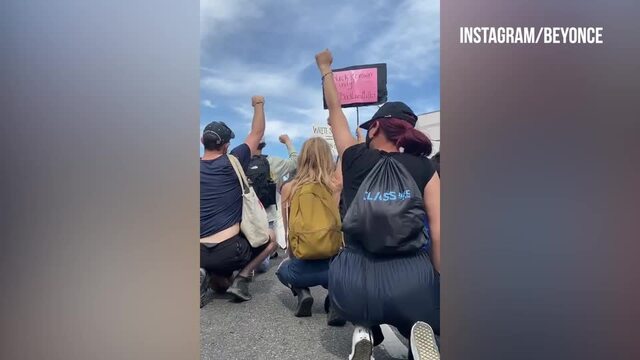 Tessa Thompson shares peaceful Black Lives Matter protest video
Dallas Police Department's iWatch app crashed shortly after K-pop stans flooded the system with fancam videos of K-pop idols.
Never underestimate the power of K-pop Twitter and a good fancam.
Yesterday (June 2), the K-pop community on Twitter came together to help take down an app, currently being used the by police amid the Black Lives Matter protests.
On Sunday (May 31), Dallas Police Department urged residents to send in videos of "illegal activity from the protests" that were taking place in the city to their iWatch Dallas app.
READ MORE: Here's how to support the Black Lives Matters protesters
If you have video of illegal activity from the protests and are trying to share it with @DallasPD, you can download it to our iWatch Dallas app. You can remain anonymous. @ChiefHallDPD @CityOfDallas

— Dallas Police Dept (@DallasPD) May 31, 2020
The tweet soon went viral, with Twitter users spamming it with memes to make it harder for the police department to search through the submissions and identify protesters.
And then the K-pop stans assembled. The fans flooded the app with fancams of their favourite idols which soon resulted in the app breaking.
A few hours after the initial tweet, Dallas Police Department tweeted that the app was temporarily down "due to technical difficulties." While those difficulties were not specified, people are now attributing it to the work of K-pop stans.
As well as flooding the app with fancams, Twitter users have also given the app one star reviews on both the App Store and the Google Play store, and have shared messages of support for Black Lives Matter and calls of justice for George Floyd in the review comments. (Via BuzzFeed News)
Mashable also reports that the fans flooded another hashtag with fancams after Kirkland Police in Washington asked for information on public rioting and looters.
not Kpop stans having the Dallas police department app crash by spamming it with fancams lmfaooo

— HOOD VOGUE is tired of poverty (@itskeyon) June 1, 2020
dallas police department asking people to send videotips to their iWatch app only for kpop stans to spam it with fancams and take it down instead is probably the funniest shit ive seen today

— parasite eve 🌸 (@shiraishorizon) June 1, 2020
Looting and vandalism is a crime, but activists, including Tamika Mallory and Brittany Packnett Cunningham, have questioned why America is more worried about burning buildings than the murder of black people. It has also been condemned by many black leaders who want peaceful protests.
There's also several instances of vandalism being carried out by non-black people, most of which could end up putting black lives in danger instead.
There's also an overwhelming amount of reports and viral videos of law enforcement across the US responding to these protests – the majority of which are peaceful and non-violent – with excessive force and violence themselves, instead of trying to de-escalate. While the protesters may end up arrested or charged, these police officers likely will not.
To find out more about the protests and ways in which you can help, visit: HERE.