Kim Kardashian walked for Balenciaga in Paris and the memes are absolutely savage
7 July 2022, 15:21 | Updated: 7 July 2022, 15:31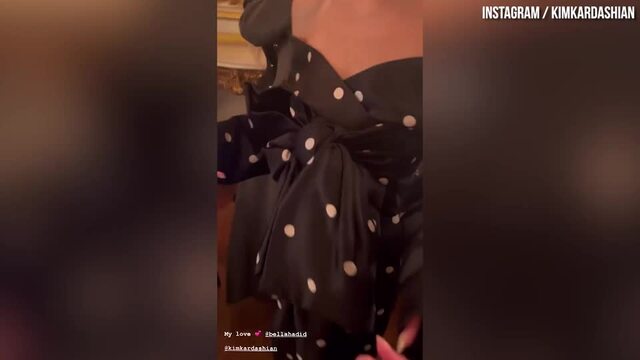 Bella Hadid takes photos of Kim Kardashian at the Balenciaga dinner in Paris
Kimberly... this walk.
Kim Kardashian can do it all: she's a billionaire, business owner, lawyer and mother of four. But runway modelling? Yeah, maybe leave that one to Kendall Jenner…
On Wednesday (June 6), Balenciaga held its haute couture fashion show in Paris. Instead of only having supermodels Naomi Campbell and Bella Hadid wear their designs, the fashion house decided to use celebrities like Nicole Kidman, Dua Lipa, and of course their new brand ambassador Kim Kardashian, who is often seen rocking Balenciaga's controversial pants-boots.
Taking to the catwalk, Kim slinked down the runway in an all-black ensemble that was pinched in at the waist. The outfit also consisted of long black gloves and a pair of black pants-boots, of course. Kim also swept her platinum blonde tresses into a sleek bun.
READ MORE: Kim Kardashian criticised for "bragging" about weight loss following Met Gala
"BALENCIAGA HAUTE COUTURE SHOW! What an honor to walk in a couture show! thank you @balenciaga and @demna for this amazing experience!" Kim posted following the event.
As always, Kim looked amazing and people were living for her high fashion runway debut… but the walk? The glazed over stare? I-
Unsurprisingly, there were a ton of memes about Kim Kardashian's walk.
All the best memes about Kim Kardashian's Balenciaga runway at Paris Fashion Week.
Read more Kim Kardashian stories here:
Conan Gray Reveals Which Taylor Swift Re-Release Album He Wants To Be On | PopBuzz Meets