Miranda Lambert fan shares photo after being told to stop taking selfies at show
19 July 2023, 12:58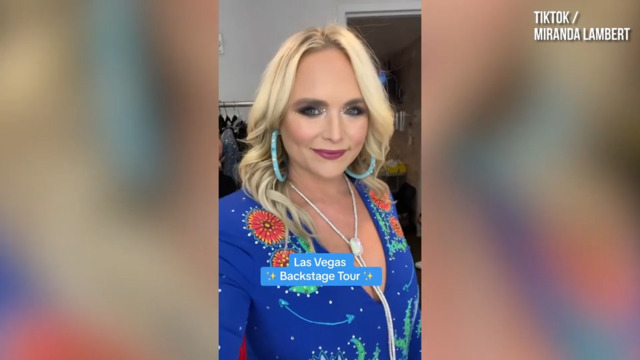 Miranda Lambert takes fans behind the scenes of her show
Concertgoer Adela Calin has now shared the exact photos taken when Miranda called them out stage.
Over the past few months, concert etiquette has been a huge topic of conversation on social media. From people throwing objects at artists, to artists kicking people out of the crowd for pushing, the debates have been raging on...
Now, country star Miranda Lambert has divided the internet after she stopped mid-song during her show in Las Vegas to tell a group of women to stop taking selfies while she was singing.
Miranda, who is currently performing as part of her Velvet Rodeo Las Vegas residency, had just started performing her song 'Tin Man' when she called out the audience members.
"I'm gonna stop right here for a sec, I'm sorry," she started. "These girls are worried about their selfie and not listening to the song it's pissing me off a little bit. I don't like it. We're hear to listen to some country music tonight. I'm singing some country damn music. Shall we start again?"
The viral video has sparked a massive amount of discourse, with some people arguing that Miranda was right and others absolutely dragging her for the whole thing.
Shortly after video of Miranda went viral on social media, the concertgoer in question shared the photos that were taken right before that very moment.
"These are the 2 pictures we were talking when Miranda Lambert stopped her concert and told us to sit down and not take selfies," Adela wrote, alongside one photo of the group with Miranda in the background, and one with the group posing together.
Even more photos from the concert were shared on Adela's public Instagram page that show just how close the group were to the stage, and how the seating was set up for the show.
Reactions to the incident have been mixed. Plenty of people have called Miranda out for shaming the audience members, arguing that as paying audience members, they should be able to take photos and selfies during the show.
"Honestly what she did was SO incredibly rude. You paid money to be there & if you want a picture that's none of her business unless she wants to state no cameras allowed!," one user wrote under Adela's Instagram post. "I'm sorry she treated y'all this way, definitely lost some respect for her."
"I was sitting right behind the pit and saw how she treated you ladies. I also saw your faces after the fact. I cannot believe how she acted. I'm absolutely disgusted to be honest. Sorry you experienced that side of celebrity. I have the video of her telling y'all to sit down. It's so gross," another shared.
But while plenty of people have flocked to the group's defence, others believe Miranda was in the right to call it out, particularly because the photo was taken during a very emotional, quiet moment during the show.
"This isn't a selfie. This is a posed photo with a flash during an intimate moment of the show. It's rude to the performers and the audience," one user wrote in Adela's comment section.
Another added: "Six people that close to the stage stood up turned their backs to the performer who is trying to set a mood and sing a very emotional song in a darkened quiet theater to take a posed picture with a flash. I would have kicked y'all out tbh. Read the room people."
Miranda herself has yet to comment on the reaction to the video.
The Witcher Cast Interview Each Other | PopBuzz Meets