Nicole Kidman Explained Why She Doesn't Know How To Clap
It all makes sense now.
Remember that time the Oscars gave the Best Film award to La La Land, only to realise it was supposed to be Moonlight? Well we're still not over it, to be honest. The only thing that has been keeping us going is Nicole Kidman and her strange clapping technique.
In case you've forgotten, a clip of Nicole Kidman went viral after she was caught clapping like the monster from Pan's Labyrinth. It was bizarre to say the least.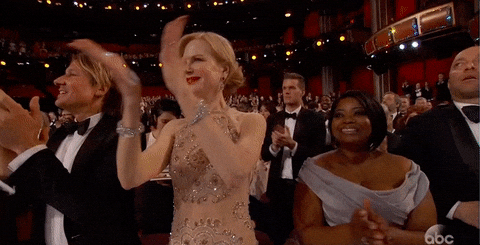 GIPHY
And the internet reacted accordingly.
Nicole Kidman learned to clap from an otter at Sea World.

— tad friend (@tadfriend) February 27, 2017
I've seen that Nicole Kidman clap before #Oscars pic.twitter.com/XDGlJErwoG

— edwin (@edwinthejeans) February 27, 2017
SOMEONE PLEASE TEACH NICOLE KIDMAN HOW TO CLAP pic.twitter.com/5DQFR3M0VV

— #1 Rachel (@rachel) February 27, 2017
Why does Nicole Kidman clap like The Grinch?! pic.twitter.com/dhzN7Og8xC

— Michael Lopriore (@MichaelLopriore) February 27, 2017

Now, Nicole has FINALLY explained what was happening and it's actually really boring, sorry about it.
In a new interview on Australian radio with KISS FM's Kyle and Jackie O, Kyle reasons that it was because of her jewellery. "It's because of the rings, you idiots, like that's why she's clapping like that, she doesn't want to damage the jewels!"
To which Kidman laughed and responded: "Yes, yes! I'm so glad you clarified that because it was really awkward! I was like, 'Gosh, I really want to clap'."
She continued: "I don't want to not be clapping, which would be worse right?. (People would think), 'Why isn't Nicole clapping?' So therefore I'm clapping but it was really difficult because I had this huge ring on, which was not my own but was absolutely gorgeous and I was terrified of damaging it!"
So there you have it. Mystery solved. Now if only we can solve the mystery of why Nicole didn't win Best Actress for her iconic role as Satine in Moulin Rouge. Perhaps we'll never know. Alas...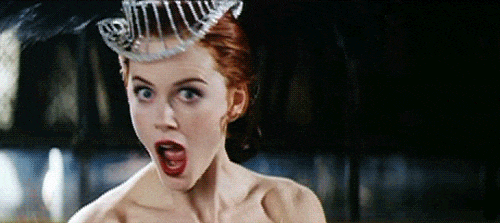 giphy