The Simpsons predictions strike again with Barbie and Donald Trump's arrest
5 April 2023, 17:33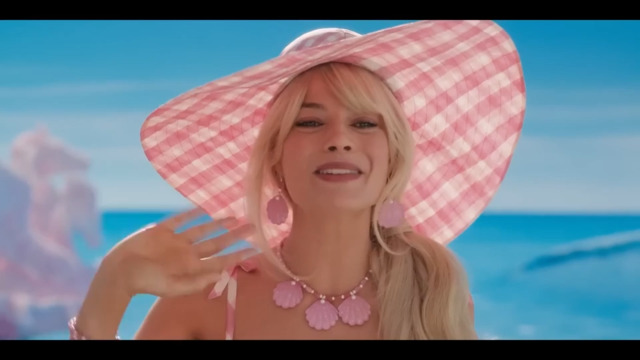 Watch the first full-length Barbie trailer
How has The Simpsons done it again?
Another prediction by The Simpsons has come true and it involves Barbie and the arrest of former president Donald Trump.
In the years since The Simpsons debuted in 1989, fans have noticed that the hit TV show has somehow managed to predict real-life events. From Donald Trump becoming president to Richard Branson travelling to space, if something wild happens in real-life, there's a 99.9% chance that it's already happened in some capacity in one of The Simpsons' many episodes.
Now, The Simpsons is shocking people with its mystical powers again and this may be their most specific prediction yet.
READ MORE: Barbie meme generator: How to make your own Barbie selfie poster
Yesterday (Apr 4), the trailer for the brand new Barbie movie starring Margot Robbie dropped and, within seconds, the whole world was talking about Barbie. From memes to posters, people can't get enough of everyone's favourite doll. However, at the same time, former president Donald Trump was charged with 34 felonies relating to falsifying business records.
Yes. You've guessed it. This exact turn of events happened in The Simpsons in the 1994 episode "Lisa vs. Malibu Stacy". In the episode, Lisa persuades the creator of Malibu Stacy (a Barbie-inspired doll) to create a new doll called Lisa Lionheart that's a more positive role model for young girls. Lisa's doll becomes a huge craze and even makes it to the news.
At the end of a news report, fictional news anchor Kent Brockman says: "It was unusual to spend 28 minutes reporting on a doll. This reporter found it impossible to stop talking. It's just really fascinating news folks. Good night." He then quickly adds: "Oh and the president was arrested." Pretty freaky.
Noticing the similarities to the scene and the news involving Barbie and Trump, one person tweeted, "This is literally the news today" alongside screenshots from the episode. The tweet has since been liked over 50,000 times.
READ MORE: Who is Midge in the Barbie movie? The true story behind the controversial pregnant Barbie doll
So does The Simpsons actually predict the future? Speaking to NME in 2021, The Simpsons writer Al Jean said: "One of our writers, the guy whose episode predicted Donald Trump as president, said it best: 'If you write 700 episodes, and you don't predict anything, then you're pretty bad. If you throw enough darts, you're going to get some bullseyes…'"
READ MORE: The memes about Ryan Gosling playing Ken in Barbie are out of control
ATEEZ Spill Their Secrets In 'The Tower Of Truth' | PopBuzz Meets