Steve Harvey Halloween costumes go viral on TikTok thanks to NSFW "sit on it" clip
31 October 2022, 16:03 | Updated: 31 October 2022, 17:09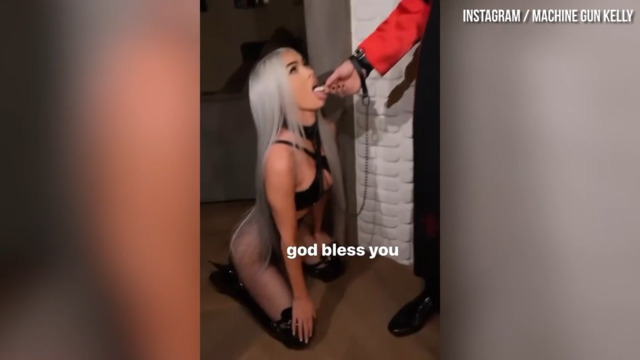 Machine Gun Kelly and Megan Fox face backlash over Halloween costumes
"Name something you'd like your girlfriend to do to your face".
2022's hottest Halloween costume is... Steve Harvey, apparently.
The spooky szn is well and truly upon us, with celebrities and social media users alike all sharing their inventive Halloween costumes for this year. So far, we've seen Lizzo as Marge Simpson, Kim Kardashian as the X-Men's Mystique, Kendall Jenner as Jessie from Toy Story 2 and plenty of controversial Pamela Anderson and Tommy Lee looks inspired by the Hulu show.
But none of them – NONE of them! – even come close to being as iconic as the overwhelming number of Steve Harvey Family Feud costumes that have flooded TikTok. (Thanks to one tweet from musician and creator Sarah Lugor, the costumes have also gone viral on Twitter too.)
Inspired by a TikTok posted by @vibin.wit.tay back in March 2022, users have been recreating one specific Steve Harvey moment from the game show.
the amount of teenagers that dress up as steve harvey for halloween is a phenomenon that needs to be studied

— sarah lugor! (@sarahlugor) October 29, 2022
The viral clip in question is from a 2022 episode of Family Feud that sees host Steve Harvey ask: "Name something you'd like your girlfriend to do to your face".
One contestant then gives the answer that everyone was thinking: "I'm gonna say 'sit on it'." Steve then screams "YESSSSSSSS!" before walking away and shouting "SIT ON IT!" as the board dings and confirms that it's a correct answer.
Videos of people dressed as Steve and recreating that moment are everywhere, cementing it as thee best Halloween costume trend of 2022. By several miles.
X-rated answer! Steve Harvey walks off! #shorts
One particular video posted by @dthebenjiii has been viewed 8.8 million times, and has garnered over 2.4 million likes. There's plenty more that have gone viral too, and they get funnier and funnier every time.
The bald caps, the suits, the fake moustaches, the home-made Family Feud cue cards, the variations on the way Steve runs away and comes back again... the splits when the correct answer dings?! Chef's kiss. Absolute perfection. I don't know a better Halloween costume.
WATCH: Drag Race UK's Le Fil Reveals RuPaul's Idea For Their Snatch Game Character
Drag Race UK's Le Fil Reveals RuPaul's Controversial Snatch Game Idea | Drag Race Yearbook