Who is the most followed person on TikTok? Here are the Top 10
23 November 2020, 09:47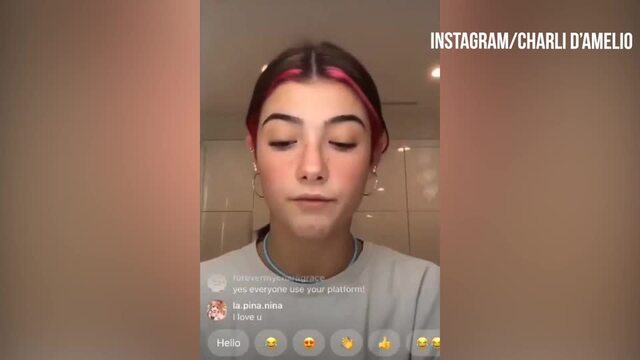 Charli D'Amelio slams haters
Charli D'Amelio? Addison Rae? Bella Poarch? Here are the most-followed accounts on TikTok.
TikTok is now one of the biggest social media platforms globally and its most-followed stars are celebrities in their own right.
People can't get enough of watching videos of content creators like Charli D'Amelio take on TikTok's viral dance routines, or celebrities like Will Smith create their own mini-movies. Love it or hate it, there's no denying how popular TikTok is and how easy it is to spend countless hours scrolling through the funniest, coolest and most inventive videos on the platform.
READ MORE: What is the most liked video on TikTok? Here are the Top 10
Who is the most followed person on TikTok though? Here are the Top 10 and their usernames so that you can follow them.
1) Charli D'Amelio - 100.2 million followers
Charli D'Amelio has been the most followed person on TikTok for quite some time now. The 16-year-old star rose to fame on the platform after posting videos of herself dancing to TikTok's most viral songs and she continues to do the same. She also joined TikTok's Hype House in 2019 and left in 2020, and she's appeared in Jennifer Lopez and Bebe Rexha music videos.
You can follow Charli via @charlidamelio.
2) Addison Rae - 69.9 million followers
Addison Rae is the second most followed person on TikTok. Like Charli, Addison has a background in dance and her videos often see her taking on TikTok challenges. Addison is also an aspiring actress and she will appear in the upcoming She's All That remake. The 20-year-old is good friends with the Kardashians too and sometimes pops up on their Instagram pages.
You can follow Addison via @addisonre.
3) Zach King - 52.8 million followers
Zach King is no stranger to viral fame. The filmmaker and illusionist first amassed a huge following on Vine and his fans were quick to join him on TikTok. Zach tends to post elaborate magical tricks on his page and they're so amazing and shocking that people keep coming back for more. Zach is 30-years-old.
You can follow Zach via @zachking.
4) Loren Gray - 49.5 million followers
Loren Gray originally got famous posting Musical.ly videos. The 18-year-old singer and social media star also was in HRVY's 'Personal' music video in 2017. Loren uses the platform to sing, take on challenges and give fans a glimpse into her private life.
You can follow Loren via @lorengray.
5) Spencer Polanco Knight - 48.9 million followers
Spencer Polanco Knight is the fifth most followed person on TikTok. Spencer is a beatboxer and most of his videos see him flexing his beatboxing skills.
You can follow Spencer via @spencerx.
6) Dixie D'Amelio - 44.4 million followers
Dixie D'Amelio is Charli D'Amelio's 19-year-old sister. Dixie is a singer and she uses the platform to promote her music, film videos with her sister and take on viral challenges. Dixie is most famous for her single 'Be Happy'. She also recently released a Christmas single with Liam Payne called 'Naughty List'.
You can follow Dixie via @dixiedamelio.
7) Bella Poarch - 43.7 million followers
Bella Poarch is quickly becoming one of the most well-known TikTok stars. She went viral after posting a TikTok video of her lip-syncing to Millie B's 'M to the B' song. The clip is currently the most-liked video on TikTok with almost 34 million likes. Bella is 19 years old and most of her videos involve her lip-syncing to viral songs.
8) Riyaz Aly - 43.6 million followers
Riyaz Aly is the most followed non-American creator on TikTok. The 17-year-old Indian social media personality can often be found lip-syncing to songs and posting videos with his family and friends. Riyaz is also an actor and a model.
You can follow Riyaz via @riyaz.14.
9) Will Smith - 43.1 million followers
Will Smith is the only celebrity, who didn't become famous through social media, in the Top 10. The 52-year-old actor, who's starred in everything from The Fresh Prince of Bel Air to Aladdin, posts videos that showcase his unmatched comedic skills.
You can follow Will via @willsmith.
10) Michael Le - 42.2 million followers
Michael Le is one of TikTok's most popular dancers. Michael creates his own routines and trends that often go viral on the platform. Michael is 20-years-old.
You can follow Michael via @justmaiko.