The Naked Challenge on TikTok is hilariously catching boyfriends off guard
6 April 2020, 15:49 | Updated: 3 November 2020, 10:46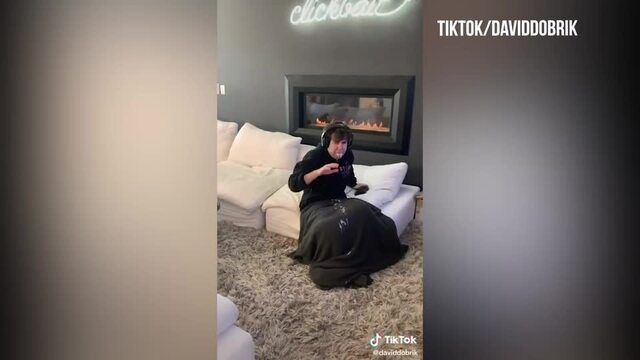 David Dobrik and Natalie take on TikTok's Naked Challenge
All you need is your birthday suit… and a boyfriend.
We're well into lockdown now, and if you're lucky enough to be cooped up with a significant other (must be nice…) then it's inevitable that you'll have to start pulling some pranks on each other for a little bit of internet clout.
Well, behold ladies and gents, because a new TikTok challenge is curing quarantine boredom among couples: The Naked Challenge.
You've probably seen the challenge floating around on TikTok since March under various names now (naked can get flagged by TikTok, so it's sometimes called the "nakd", "nakey" or "nakid" challenge) but it's really starting to take off. According to Know Your Meme, the trend was made popular by TikToker @lindseybear1, who shared a video of her boyfriend's reaction to her walking in naked while playing he was playing Call of Duty.
READ MORE: Tom Holland gets beaten by Jake Gyllenhaal in hilarious impossible t-shirt challenge
Basically, all you have to do is walk in on your partner butt naked and film their reaction. Simple. Many decide to strike whilst their partner is otherwise engaged and the reactions range from pure shock to more nonchalant – YouTuber David Dobrik kicked things off with his assistant Natalie and the rest is history.
Here's some of the best naked challenge videos.
If you're single, or just happen to be locked up without your partner, don't worry. There's still an opportunity for you to get involved too. People have been surprising their housemates, pets and even their parents while naked.
What do you think? Tweet us @popbuzz and let us know!