Tom Hanks' niece goes viral after wild elimination meltdown on reality TV
29 June 2023, 17:26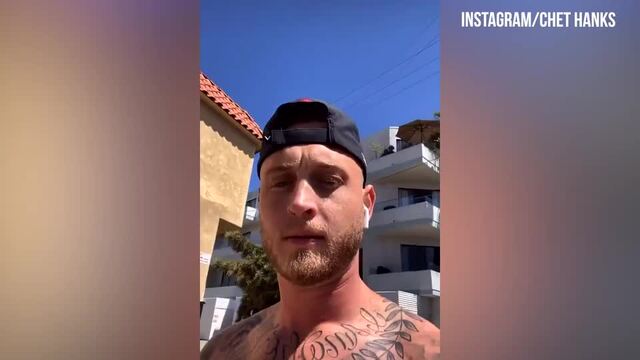 Chet Hanks explains the White Boy Summer rules
"I don't deserve this. I should have more camera time. I should be here longer."
Another absolutely iconic reality TV moment has just cemented itself in the history books, and it's all thanks to Tom Hanks. Kind of.
Claim To Fame is a US reality series airing on Hulu. The show is hosted by brothers Kevin and Frankie Jonas, and features a handful of relatives of celebrities staying in a house full of clues about their famous family member. The contestant who manages to hide their identity for the entire season wins $100,000.
Tom Hanks and Rita Wilson's niece Carly Reeves was a contestant on the show, but was dramatically voted off in the first episode after her cover was blown. A clip of her outburst has now gone viral on social media and it's absolutely hilarious.
In the video, Carly (who is also an actress) faces off against contestant Hugo who correctly identifies that her celebrity relative is Tom Hanks. Carly then bursts into tears when it's confirmed and leaves the stage without saying goodbye to any of her fellow contestants.
While the others are discussing the elimination, Carly can then be heard screaming off-camera before she begins shouting about how the clues that gave away her connection to Tom were way too easy.
"His freakin' clues are so freakin' obvious," she screams. "Are you kidding me? Why a bench? Why a bench? There's literally no reference to benches on any other movies. Even (her fellow contestant) Gabriel found that out. He's not even, like, smart."
"I didn't even get to any challenges," she yells before sobbing. "I don't deserve this. I should have more camera time. I should be here longer."
Speaking to USA TODAY about her elimination, Carly (who is actually the daughter of Rita Wilson's sister) admitted: "I was first shocked, then I was sad, and then I was really angry because I thought that my clues were just super easy. I felt like I didn't get as easy a game as everyone else."
"They could have used a million different clues from all of his different movies, but they decided to use the biggest movie of his and make three clues about that. I thought I didn't get a good shot at it, and I just felt like it was all kind of planned to make me go home."
When asked if she had any regrets about the whole thing, Carly said: "Could I have handled myself better and been a little bit more graceful with it? Yes. But as far as being upset and sad, that was all real. So, I can't regret it."
Leigh-Anne Picks Her Own Interview Questions | PopBuzz Meets