Here's all the best WAP remixes from TikTok and YouTube
9 October 2020, 19:55 | Updated: 3 November 2020, 10:44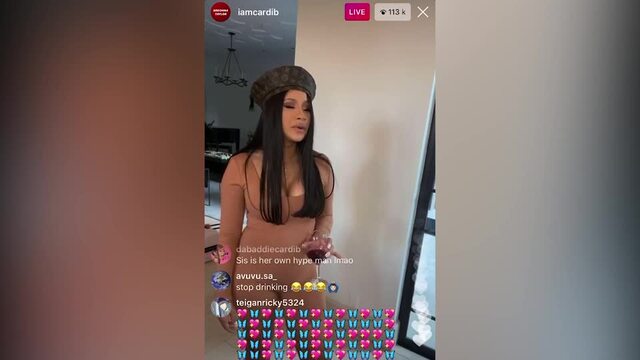 Cardi B attempts the WAP Dance Challenge on Instagram Live
43 WAP remixes all in one place. You're welcome.
In case you needed even more proof that Cardi B and Megan Thee Stallion's monumental BANGER 'WAP' is the song of the year, here's 43 remixes and mashups that fit so perfectly you literally won't know what do to with yourself once you hit play.
According to a TikTok video from mid-September, there used to be a Spotify playlist that had all of these iconic 'WAP' remixes in one handy place but it's since been deleted. (RIP to the WAP remixes Spotify playlist x)
To save you the trouble of scouring the internet for the best ones, we've decided to put them all in a playlist of our own.
READ MORE: Best TikTok songs 2020: Every viral song from TikTok
From Rihanna, Britney and Nicki Minaj to the Mii Channel Music, 'M to the B' and even 'Guns and Ships' from Hamilton (yes, really)... here are the best 'WAP' remixes on TikTok and YouTube.
WAP x Rihanna - 'S&M'
With over 3 million plays on YouTube, the 'WAP' x 'S&M' remix is by far the most popular. And it's even had the stamp of approval from Cardi B herself.
WA&P - Rihanna vs. Cardi B feat. Megan Thee Stallion (Mashup)
This is what Elsa is blasting while she's home alone in her ice palace.
'WAP', but make it sad country.
The YouTube description reads "I cried while making this." Stunning. I hope Adele does it on her next tour.
One comment on this video reads "I want this playing on my funeral while they are lowering my coffin to the ground."
WAP x Britney Spears - 'Toxic'
Britney's 'Toxic' is famous for producing some of the finest pop mashups known to man but this one truly truly truly takes the cake.
WAP x Toxic | Mashup of Cardi B, Megan Thee Stallion, Britney Spears
We deserve a Hustlers 2 just so we can put this mashup on the soundtrack.
Listen to this, and then imagine how incredible an Ariana Grande x Megan Thee Stallion collab would be. (There's a surprise Nicki Minaj verse in this one too.)
Chef's kiss.
"You get the beeeeeeest of both WAPS"
Can you say ICONIC?
Halloween might be cancelled this year but this remix says otherwise x
Is this the best Mii Channel Music remix yet? Yes or yes?
WAP x Millie B - 'M To The B'
There's a couple of 'M to the B' remixes on TikTok but this offering by Diplo has changed my life.
For those of you who want some 'WAP' with your Christmas ballet performances.
Who gave these two songs the right to sound so good together!?
Two perfect songs!
Petition to change the lyrics to "WAPpa Gangnam Style!"
When I say you haven't lived until you've heard 'WAP' placed over the top of the title track from Hamilton, I really really mean it.
WAP x 'Guns and Ships' from Hamilton
IF THIS ISN'T ON THE NEXT HAMILTON MIXTAPE...
WAP but it's Guns and Ships (Hamilton x Cardi B and Megan Thee Stallion Remix)
This? PERFECTION.
Lol, imagine this playing in the background during the Triwizard tournament.
Never knew I needed this in my life.
Cardi and Megan could do 'SexyBack' but Justin couldn't do 'WAP'.
Maybe if The Rise of Skywalker had included THIS in the film...
WAP x Verka Serduchka - 'Dancing Lasha Tumbai'
Official petition to get Verka, Cardi and Megan performing this together at Eurovision 2021.
This feels like an internet-breaking MTV VMA moment waiting to happen.
This also feels like an internet-breaking MTV VMA moment waiting to happen. And probably more likely, tbh.
Time to join in on a new TikTok dance.
Suddenly this is the best Disney Channel theme tune of all time.
This remix has been endorsed by Andrew Thee Lloyd Webber himself.
WAP x ABBA - 'Lay All Your Love On Me'
Saw someone call this 'Lay All Your WAP On Me' and now I can't stop thinking about it.
I had a dream. This remix was everything I never knew I wanted.
Actually... THIS is now the best Disney Channel theme tune of all time.
Don't even know what to say about this one except... oh...mygod.
This really will take you to church.
WAP Makes You Beautiful.
WAP x One Direction - 'No Control'
THIS IS NOT A DRILL!
No Control / WAP — One Direction and Cardi B, Megan Thee Stallion (Mashup!)
WAP, but make it Extra Festive™️.
WAP, but make it disco.
This remix is being used for a brand new 'WAP' challenge, so if you're looking for a new TikTok dance to learn look no further.
Cardi contributed to the WAP mix by providing us with some raw vocals that are just begging for a club remix.
WAP x Queen - 'Bohemian Rhapsody'
And finally, the pièce de résistance... With added 'CoronaVIRUS' adlibs.
bohemian WAPsody (full version)