TikTok's Willy Wonka deletes "offensive" Spanish video following backlash
5 October 2020, 12:09 | Updated: 3 November 2020, 11:12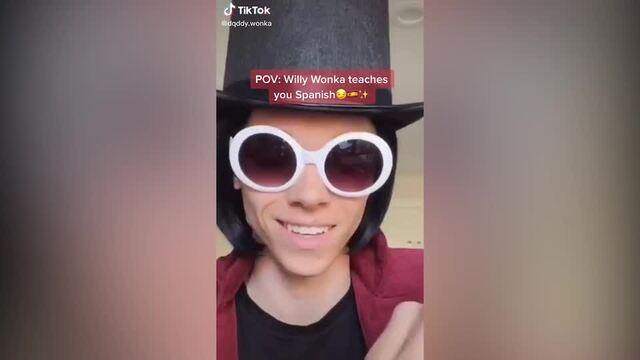 TikTok's Willy Wonka deletes Spanish POV video following backlash
Wait – why is Willy Wonka on TikTok cancelled?
The internet has cancelled TikTok's Willy Wonka after he shared a video that was accused of stereotyping Hispanic people.
In case you didn't know, Willy Wonka has one of the most popular TikTok accounts on the platform right now. Also known as Duke Depp, the 19-year-old star from Utah has amassed over 14 million TikTok followers for dressing up and impersonating the iconic Charlie and The Chocolate Factory character.
However, last week, Willy Wonka sparked backlash for posting a video which some deemed offensive by the Hispanic community.
READ MORE: How to use the anime filter in TikTok
Why is TikTok's Willy Wonka cancelled?
Willy Wonka was effectively "cancelled" after he made a video which was accused of stereotyping Hispanic people.In the video in question, Willy Wonka is asked by a fan if he can speak Spanish. Willy Wonka then replies: "Hola, soy Willy Wonka, si?" before eating a tortilla chip and giving a thumbs up to camera.
Some found the video offensive and said he was reinforcing a stereotype about Hispanic people, especially because he ate a tortilla chip. However, others insisted that the video wasn't offensive at all.
if i see any of u hyping up the willy wonka guy i wont hesitate to hardblock you ❤️❤️ my culture isnt a joke full of stereotypes babe <3333 pic.twitter.com/uK2TeVmczP

— 10 ⨟ 19 (@mionegrcngr) October 1, 2020
Fuck the willy Wonka tik tok bitch.
Thank you, Duke for adding to the already harmful and Disrespectful stereotypes spanish people are already faced with everyday. Simply saying the sentence would have been fine but you had to butcher the pronunciation, put coco in the background

— Zach ミ☆ (@satanxlopez) October 2, 2020
As a hispanic i disnt see it offensive u were just trying to have fun🥺♥️

— TheBaddestNut (@NutBaddest) October 1, 2020
Willy Wonka has now deleted the video and apologised. On Twitter, he said: "I am so so sorry about my 'Spanish speaking video' on TikTok. Looking back on the video now I absolutely understand why the video was wrong. To anyone who I hurt with the video I apologize, and I promise to be better."
I am so so sorry about my "spanish speaking video" on Tiktok. Looking back on the video now I absolutely understand why the video was wrong. To anyone who I hurt with the video I apologize, and I promise to be better.

— Willy Wonka Tiktok / Duke (@WonkaTiktok) October 1, 2020