Zara Larsson sparks viral debate after saying people should talk in the cinema
6 February 2023, 17:17 | Updated: 6 February 2023, 17:30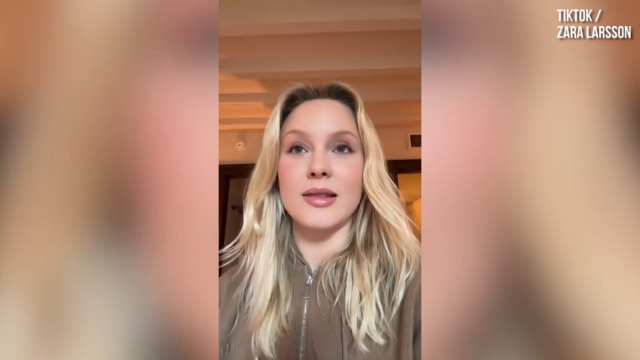 Zara Larsson says people should talk in movies at the cinema
Zara Larsson thinks that people should talk during movies and people do NOT agree with her.
Zara Larsson has officially divided the internet after arguing that people should be able to talk at the cinema in a viral TikTok.
You know Zara Larsson. She's a popstar best known for making bops like 'Lush Life', 'Never Forget You' and, most recently, 'Can't Tame Her'. However, Zara's also known for her hilarious internet antics. Whether she's pointing out that no penis is too big for a condom (seriously) or roasting bowling as a pastime (this post is art), Zara regularly breaks the internet.
Now, Zara is going viral with her most controversial opinion yet. She believes that you should be able to talk during movies.
READ MORE: Zara Larsson reveals why she didn't release Sweet Melody by Little Mix
In a post titled 'In my controversial era', Zara outlined her point and stated: "We need to talk about this. I'm about to go to a movie and it made me think. People say, 'Oh if you wanna talk during a movie, you shouldn't go to the cinema. Lies! If you don't wanna hear people talking during a movie, you shouldn't go to the cinema."
She then argued: "Isn't the whole thing about watching something with other people in the same room to like experience it together and laugh and scream and have full-on analyses about the characters while you're watching? If you wanna sit in silence like a fucking stone, just go home."
Zara ended by stating: "Sorry, I'm that person. I am that person. Take me to fucking jail. I will say a lot of things during the movie. I feel like we should change the culture around going to a movie. It should always be chitty-chatty in the cinema."
Of course, it wasn't long before Zara's video went viral with many people disagreeing with her take. One person commented: "Worst take ever unlocked". Another added: "If I hear a single person try and drop some freshman year of high school level analysis during a movie I'm gonna scream in their face." Someone simply wrote: "Stay away from the cinema."
However, people also tried to see Zara's side. One person wrote: "There's a difference between reacting to the movie and having full-on convos and character analysis? It's just rude to talk constantly lol." Another suggested: "there should be theaters for social watching and theaters for quiet watching ‼️"
It's probably also worth pointing out that in different cultures talking in the cinema is more commonplace so maybe we shouldn't be too hard on Zara. She is also an infamous troll so it's worth taking what she says with a pinch of salt.
What do you think? Is it wrong to talk in the cinema?
Lockwood & Co. Cast Interview Each Other | PopBuzz Meets