Here's Why Amandla Stenberg Is A Voice To Be Reckoned With
12 January 2016, 12:57 | Updated: 16 November 2020, 21:37
Bow down.
If you're not aware of who Amandla Stenberg is, get yourself acquainted ASAP. And then get ready for this smart, inspiring 17 year old to put. you. in. your. place.
1) That time she appeared a really intelligent video about cultural appropriation and reminded us ALL to be more socially and racially aware.
2) And then she put the mainstream media in their places for misinterpreting the whole damn thing!
The way you are presenting this video is misleading and creates conflict instead of constructive convo! https://t.co/CfCfQvXY13

— Amandla (@amandlastenberg) April 16, 2015
3) That time she called for haters and media outlets to STOP with the pathetic tropes.
End the "angry black girl" narrative. It's just another attempt to undermine certain perspectives. I have strong opinions. I am not angry.

— Amandla (@amandlastenberg) July 13, 2015
4) That time she reminded us that teenagers are NOT to be brushed aside.
I think people discredit teenagers and how wise they can be. Sometimes I meet teenagers that are much wiser than any adults I've met.

Amandla Stenberg: the new agenda. Dazed.
5) That time she wasn't afraid to put Minions in their place.
I wonder how many college tuitions could be paid off with the amount of money spent by Minions on advertisement

— Amandla (@amandlastenberg) July 10, 2015
6) And that time when she reminded us all that she's ~literally~ magic.
Simultaneously balancing being "the voice of a generation" and applying to college...

— Amandla (@amandlastenberg) August 11, 2015
7) That time she put Katniss in her place during the Hunger Games by cementing her status as the tru MVP.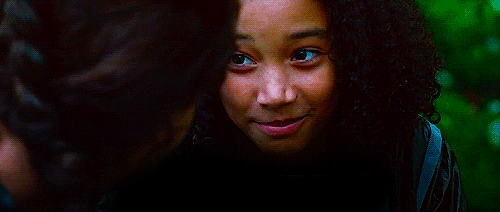 8) And then merged her fictional personal and her personal persona into one giant MEGA STAR PERSONA.
9) When she left this inspiring message on the Teen Vogue Snapchat...
10) And then subtly reminded us all that she's on her way, flawlessly, to steal ALL our girls.
11) There was that time she stood up for personal expression and gender norms.
Guys aren't allowed to express femininity; they have to always appear masculine and that's bullshit.

Amandla Stenberg: the new agenda. Dazed.
12) And when she literally had had enough of people pitting women against each other.
So unfortunate to see the media pitting women against eachother in 2015. Ladies, our love for eachother will overcome all trivial nonsense.

— Amandla (@amandlastenberg) April 16, 2015
Are you in your place now? Ok then... you may proceed. SLAY ON, AMANDLA!