This ridiculous Bella Poarch conspiracy theory is going viral on TikTok
27 October 2020, 16:46 | Updated: 3 November 2020, 10:58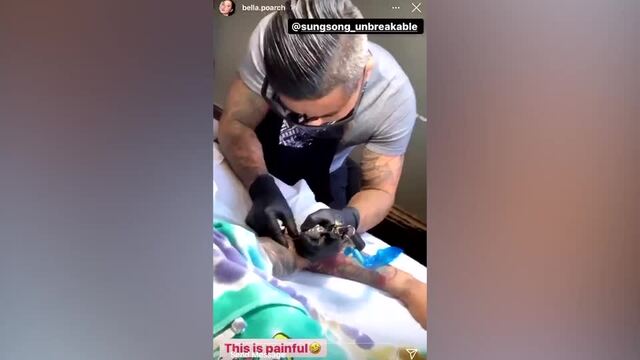 Bella Poarch appears to get offensive tattoo covered
Over 6 million people have viewed this Bella Poarch video, but not everyone is buying in to it.
Ever since her meteoric rise to internet fame on TikTok earlier this year, Bella Poarch has become the subject of many conspiracy theories. From the truth about her real age and real name to whether or not she's actually an "industry plant", some people seem to think that something scandalous or controversial is afoot with the TikToker.
Bella's sudden popularity is wild when you think about it. She posted her first TikTok in April 2020, went viral with her 'M To The B' video in August and, as of October, has 40 million followers.
It's not unheard of for someone like Bella to go that viral, especially in the middle of a worldwide quarantine. Some people, however, are theorising that her success has to do with something a little more dark-sided.
There's a conspiracy theory going viral on TikTok that suggests Bella Poarch, um... sold her soul to the Illuminati for TikTok fame.
READ MORE: Bella Poarch claps back at trolls who shamed her for acting "cute" on TikTok
The video, titled 'Bella Poarch Truth Exposed Part 1', was posted by @larissadenisee in October and it has over 5.4 million views. Part 2 is currently clocking in at just under 1 million views. Over 800,000 people have liked the first video, but the actual "conspiracy theory" itself is quite a bit of a reach.
The video establishes who Bella is, takes note that her 'M To The B' video is the most viewed video on TikTok and then comments on how her military background and childlike persona don't seem to correspond.
It continues: "What piqued my interest is that a lot of people said she sold her soul so I took a screenshot from a video that was posted a month before she was famous and sure enough..." The video then shows an image of Bella with her face painted like a devil.
Part 2 then theorises that, because of Bella's devil makeup that she wore before she went viral, she must have sold her soul to the devil and the illuminati for instant fame.
It's not the first time this theory has done the rounds on the internet. There's multiple TikToks that have all racked up millions of views about the same subject.
In comments posted after the initial two videos, @larissadenisee wrote: "Let me clear some things up, first off, I do not wholeheartedly believe in this. It was a conspiracy and I don't want my entire account to be based on this video."
The comments have since been turned off on part 1 and 2 so it's unclear what people are saying in reaction to the video. However, some users have commented on follow up videos, writing: "Y'all reach too deep" and "You know that not everything is a conspiracy theory, right?"
The theory has also spilled over to Twitter where some people are buying in to it and others aren't convinced at all.
people r saying bella poarch sold her soul to the devil for tiktok numbers but seriously its just the power of one pretty girl and her army of simps

— ʚ♡ɞㅡqbie (@qbiebun) September 28, 2020
some girl on tik tok is literally telling people that bella poarch sold her soul to the devil for tik tok clout 😭 and her reasoning is that when she saw a photo of bella, she thought of the word illuminati??? oh my god i hate the internet sometimes AHDJAJD

— scrimp shampy started testosterone (@SHROOMTAYLOR) October 26, 2020
Bella has previously responded to the theories about how she allegedly sold her soul to the devil in exchange for *checks notes* TikTok fame. In a past gaming livestream, she appeared to mock the theory by saying: "I didn't sell my soul to the devil, you guys are mean. I go to church."
So, is it the illuminati or is it just all down to inoffensive videos and a legion of loyal simps? The latter, probably.
READ MORE: Bella Poarch has offensive tattoo covered up following backlash