Bella Poarch has offensive tattoo covered up following backlash
7 October 2020, 11:38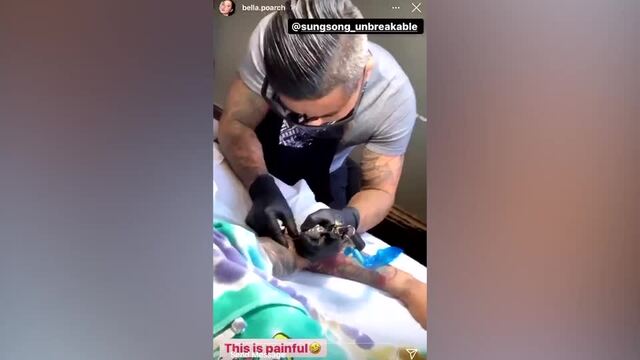 Bella Poarch appears to get offensive tattoo covered
The Japanese rising sun is deemed offensive by South Koreans.
Bella Poarch has finally had her offensive tattoo of the Japanese rising sun flag covered up following backlash.
On Tuesday (Oct 6), the TikTok star shared a video of herself from the tattoo chair and getting her tattoo covered up on Instagram Stories. The tattooist later shared photos of Bella's new design on Instagram. Bella now has a two-headed snake partially covering the rays of the rising sun, which is still slightly visible.
READ MORE: Bella Poarch: 15 facts about the TikTok star you probably didn't know
Last month, Bella apologised for getting the controversial tattoo, which is regarded as offensive to South Koreans because of its association with oppression and Japanese imperialism. Some compare it to the swastika symbol used by the Nazis.
Bella, who only got the tattoo earlier this year, insisted that she didn't know the history before getting inked.
On Twitter, she said: "I apologize to Koreans because 6 months ago I got a tattoo of the red sun with 16 rays. At that time, I didn't know the history. But when I found out, I immediately had it covered and scheduled for removal. I am ashamed of myself for not doing my research. I sincerely apologize."
She continued: "I live in Hawaii and I see a lot of people using the red rising sun symbol in clothing, cars and jewelry. Please educate yourselves and learn more about it because it came from a terrible history. It is very offensive to a lot of people. Please learn from my mistake."