Belle Delphine returns to YouTube after her account was terminated by mistake
24 November 2020, 11:37 | Updated: 24 November 2020, 15:22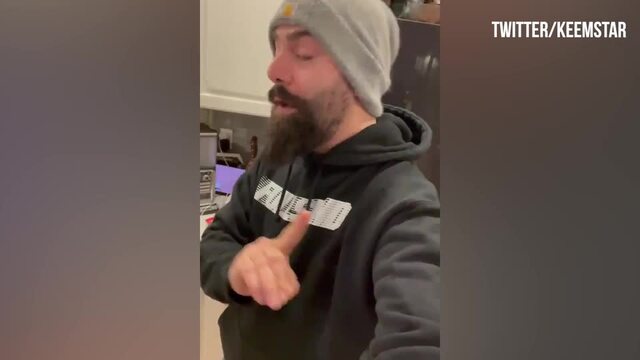 Keemstar supports Belle Delphine after her YouTube channel is banned
Belle Delphine has officially returned to YouTube.
Belle Delphine has had her YouTube channel reinstated after the platform terminated her account for violating its policy on "nudity and sexual content".
On Monday (Nov 23), fans noticed that Belle's account had disappeared from YouTube. Instead, the message: "This account has been terminated due to multiple or severe violations of YouTube's policy on nudity or sexual content," stood in its place.
Belle was incredibly upset about the deletion of her account and said she had received "no warning/strikes" before her account was removed. YouTube has a three-strike policy before it permanently deletes a channel unless the video has severely breached their policy.
READ MORE: Belle Delphine banned from YouTube for violating "nudity or sexual content" policy
Several YouTubers, content creators and fans supported Belle and complained that they had had the same issue. They even started the hashtag #UnbanBelleDelphine and Belle's name was trending on Twitter.
She tweeted: "Thankyou SO much to everybody who has stood up for me. @TeamYouTube please explain to me why i was banned when i have done nothing different to 'WAP'. This is my entire career."
Belle Delphine getting banned on youtube is seriously messed up. Nobody should support that shit. The double standard of Youtube when the videos they've had on their FRONT page is on equal if not worse than Belle's music videos makes zero sense to me.

— Repzion (@DDsulzbach) November 23, 2020
Belle Delphine is now banned for her music videos. No strikes. No warnings. Awesome YouTube.

Apparently you can only have sexualized music videos if you're part of the music industry.

Fuck this website #SimpForBella cause she simped for us. pic.twitter.com/IQPLj2xYvw

— 𝓦𝓲𝓵𝓵𝔂𝓜𝓪𝓬𝓢𝓱𝓸𝔀 (@WillyMacShow) November 22, 2020
Well, it seems the buzz worked: Belle's YouTube channel is officially back along with her 1.79 million subscribers. Celebrating her channel's return, she tweeted: "MY YOUTUBE IS BACK AAAAAAAH fuccc im so happy i could cry :,) THANKYOU @TeamYouTube for listening to me!! Thank you to everybody else who hugely helped as well."
Team YouTube then explained that Belle's channel was actually deleted by mistake. They tweeted: "Glad you saw your account has been reinstated. The termination was a mistake by the review team – we're so sorry for the frustration this caused. We've sent you an email with more info."